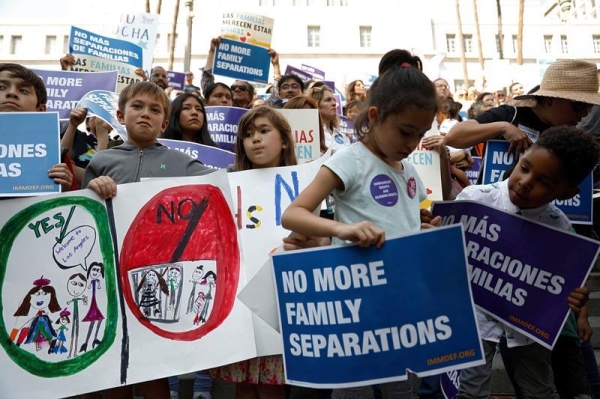 The Horror of Sessions' 'Zero Tolerance' Immigration Policy
TEXAS—(ENEWSPF)—June 18, 2018
By: Michael Garcia Bochenek, Senior Counsel, Children's Rights Division, Human Rights Watch
Sitting across from me in an immigration holding cell in McAllen, Texas, the 24-year-old woman told me a familiar story. Her town in Honduras is plagued by gang violence, and after some relatives and others she knew were killed, she fled with her 5-year-old son, fearing they might be targeted next. I talked with her son a bit – he liked the crackers the US border agents gave him, and he clapped in delight when an official handed him a juice container as we talked.
I tried to find her the next day. Her boy skipped up to me with a smile when I asked to see him, but his face dropped when I mentioned his mother. "I haven't seen her since yesterday," he said. "I don't know where she is."
She's one of the 2,200 parents — and counting — who have been separated from their children under Attorney General Jeff Sessions' new "zero tolerance" policy for undocumented entry. The US Department of Justice plans to prosecute all irregular entries, even people like this mother who approach immigration agents seeking asylum.
McAllen is on the front line of Sessions' assault on immigrant families. Several days ago, an attorney from the Texas Civil Rights Project spoke to a woman just after US Customs and Border Protection (CBP) agents took away her breast-feeding infant. Michelle Brané, of the Women's Refugee Commission, was interviewing a man and his daughter a few feet away from me when officials started to pull the girl out of the room. The two were only able to say goodbye after Brané asked the officials to give the family a few more minutes together. Many families don't get that chance: parents have been told their kids are going for a shower or will see them after court. Neither is true. The border officials are lying to parents.
CBP agents block anyone without documents from crossing the bridge at the border, because if people reach the passport control desk and ask for asylum, immigration officials should by law let them enter (though even previously they sometimes didn't).
The US government may of course enforce its immigration laws so long as authorities uphold the rights to refugee protection, family unity, and ensure children's best interests. What authorities are doing in McAllen and elsewhere along the border, however, offers few safeguards for families fleeing harm and desperately seeking safety.
Politicians and government officials like to claim the US is a beacon of hope and a bastion of liberty. McAllen shows no sign of that.
Source: www.hrw.org
Related Articles:
Stephen Colbert Addresses Trump's Cruel Immigration Policy of Separating Immigrant Parents from Their Children
As World Commemorates 70th Anniversary of Universal Declaration of Human Rights, Looks Like Trump About to Ditch UN Human Rights Council
Military Contractors Making Tens of Millions Helping Trump Tear Families Apart
Michelle Obama on Laura Bush Op-ed: 'Sometimes Truth Transcends Party'