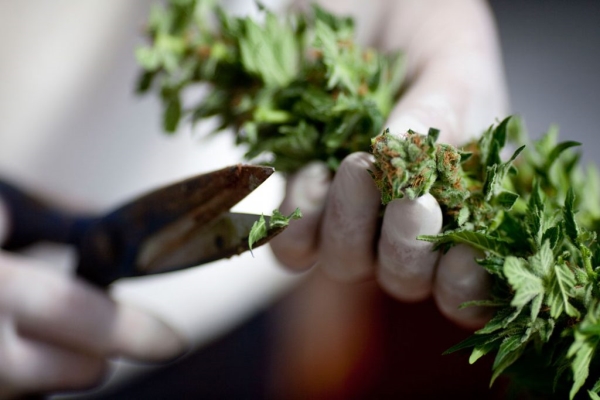 Washington D.C. —(ENEWSPF)—May 1, 2018
In April, Senate Minority Leader Chuck Schumer (D-NY) announced his support for removing marijuana from the Controlled Substances schedules, joining his colleagues recent efforts toward legislation. Legislative actions in this area include the Marijuana Justice Act, which is co-sponsored by Sens. Cory Booker (D-NJ), Kirsten Gillibrand (D-NY), and Ron Wyden (D-OR); and the Small Business Tax Equity Act from Sen. Cory Gardner (R-CO). As of 2018, 30 states and the District of Columbia have enacted laws that loosen marijuana restrictions while nine states and the District of Columbia have legalized recreational use for adults. On Friday, Seattle filed a motion to retroactively vacate all marijuana convictions prosecuted before the state's legalization of marijuana. Public opinion is also at an all-time high, with 6 in 10 Americans supporting marijuana legalization. Today, CAP released an issue brief that shows why Congress should take steps toward legalization of marijuana at the federal level.
"The failed war on drugs is over, and it is time to rethink marijuana and make moves towards liberalization of outdated laws at a federal level, beginning with decriminalization and removing it from the Controlled Substances schedules," says Ed Chung, vice president of Criminal Justice Reform at the Center for American Progress. "As well, any efforts toward marijuana legalization must include retroactivity for past marijuana convictions and consideration of the way marijuana laws have disproportionate impact on communities of color."
The majority of people in federal prison are there on drug charges, and more than half a million are arrested on marijuana charges each year. Discriminatory enforcement of marijuana laws also contributes to black and Latino Americans making up two-thirds of the U.S. prison population. In addition to the economic and health benefits that would result from marijuana legalization, efforts on this front would reduce incarceration rates and justice system involvement, keeping families and communities together and ensuring people's economic well-being.
CAP's issue brief lays out the following benefits and criteria for next steps toward marijuana legalization:
Federal marijuana can facilitate job creation and increase tax revenue, and Congress should consider how to equitably maximize these economic benefits through legalization efforts. Legalizing marijuana nationally could generate at least $132 billion in tax revenue between 2017 and 2025.
Any federal liberalization of marijuana should apply retroactively to federal marijuana convictions in order to fairly address the thousands of Americans whose life opportunities have been destroyed.
Congress must consider ways to solve racial disparities that exist even in legal marijuana markets. While loosening state marijuana laws has resulted in lower arrest rates across all racial groups, black people are still more likely than other groups to be arrested for marijuana law violations
Marijuana should be removed from the Schedule 1 drug category, which creates significant roadblocks for researchers to understand marijuana, its effects, its risks, and its potential benefits.
If marijuana is legalized at the federal level, banking regulations must be amended to allow for marijuana businesses to extend beyond cash-only operations.
Read the full issue brief: "Rethinking Federal Marijuana Policy" by Ed Chung, Maritza Perez, and Lea Hunter
Source: www.americanprogress.org
Related Article:
On 4/20 Senator Schumer Announces: The Time Has Come To Decriminalize Marijuana