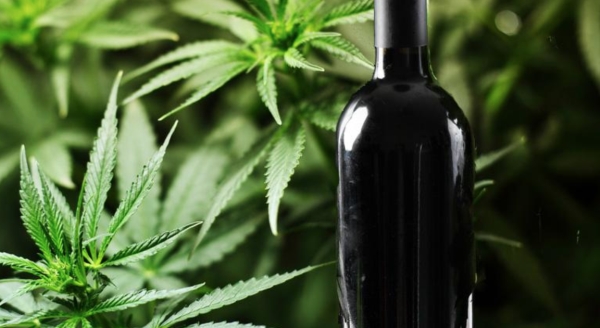 OREGON—(ENEWSPF)—July 2, 2018
There are several reasons to expect the cannabis industry in the United States to surpass the economic impact of the wine industry once federal cannabis prohibition ends. Canada's cannabis industry, about to take off under a full legalization law on October 17th, is expected to rival wine in a few years and sales in the limited number of legal states are already inching close to wine sales in the U.S.
The Oregon cannabis industry, without the ability to export across state lines, has about 1/3 of the economic impact of the wine industry already, just over $1.2 billion for marijuana, compared to about $3.3 billion for wine. Damian Mann reported in the Mail Tribune that the cannabis industry has already exceeded wine business' economic impact in Southern Oregon in many ways, including the number of jobs and average annual pay:
The local cannabis industry, which includes 37 farms and 19 retail stores in the program's database, employs 439 with total payroll of $12.58 million. The wine industry employs 355 with total annual wages of $10 million.
Not all wineries, vineyards or pot businesses are in the unemployment insurance program, but the data give some idea of marijuana's rise as an economic player in Southern Oregon.
Cannabis pays better than the wine industry, too. The average annual wage for cannabis farms is $33,731, and for retail stores it's $24,988, according to the Employment Department. Wineries pay an average wage of $29,512, while vineyards pay $25,478.
The competition is extremely tough in any cannabis market, especially Oregon, with relatively low barriers to entry and no limit placed on the number of licensed businesses (although a "pause" on processing applications has just gone into place). Despite the competition, and regulatory hurdles, it is great to see that many in the industry are creating jobs and creating a positive economic impact, especially in Southern Oregon, arguably the best area to produce cannabis in the world. Once Uncle Sam finally ends cannabis prohibition, a day that is getting closer and closer, Southern Oregon farmers, and the ancillary businesses around them, will truly flourish.
Learn the latest about the cannabis industry in Oregon and beyond at the International Cannabis Business Conference in beautiful Portland September 27th-28th. 
Source: www.internationalcbc.com