Washington, DC–(ENEWSPF)–July 2, 2015. SoftSoap manufacturer, Colgate-Palmolive Co., has agreed to pay $2 million to settle a class action suit that alleged the company misled consumers into thinking its brand of Softsoap Antibacterial liquid hand soaps killed most common germs, when in fact they do not, according to documents filed in New Hampshire federal court. After years in court, Colgate Palmolive decided to settle "in order to avoid the cost and uncertainty of continued litigation." Triclosan's use in hand soap has been shown to be no more effective than regular soap and water. Its links to public health hazards, including endocrine disruption, antibacterial resistance, and water contamination, has raised the question of its necessity in over the counter consumer products, given the hazards.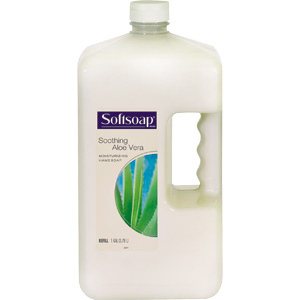 Triclosan, an antimicrobial pesticide used in many "antibacterial" hand soaps, as well as thousands of other consumer goods, such as toothpaste, cosmetics, and treated plastics and textiles, has been marketed as a 'germ killer.' However, its efficacy has been called into question by several agencies and independent studies. In fact, a U.S. Food and Drug Administration (FDA) Advisory Committee, and the American Medical Association both find that there is no evidence that triclosan is effective for its intended use. Instead, triclosan is linked to increasing bacterial resistance and cross-resistance to crucial antibiotic medications – potentially endangering public health.
In 2013, the FDA announced in new rulemaking that it will require manufacturers of antibacterial soaps and body washes to prove that their products are both safe for long-term use, and more effective than regular bar soap in order to remain on the market. According to FDA, the agency is currently "engaged in a comprehensive scientific and regulatory review of all the available safety and effectiveness data. This includes data relevant to the emerging safety issues of bacterial resistance and endocrine disruption due to triclosan in FDA-regulated products." Just last week, the European Chemicals Agency (ECHA) announced in an adopted opinion, "[N]o safe use could be demonstrated for the proposed use of Triclosan," stating that triclosan, is toxic and bioaccumulative, and will be phased-out for hygienic uses and replaced by more suitable alternatives.
The //www.manatt.com/uploadedFiles/Content/4_News_and_Events/Newsletters/AdvertisingLaw@manatt/InreColgatePalmoliveSoftsoap.pdf">multidistrict litigation brought against Colgate Palmolive in 2012 identifies triclosan as the active ingredient in the liquid soap that the company manufactured from 1992 to 2011, which claimed that it was "clinically proven to eliminate 99 percent of germs." The five individual plaintiffs cite that triclosan does not actually provide the antibacterial protection the company claimed. The plaintiff's argue that Colgate Palmolive, "intentionally misrepresented to consumers that washing with Softsoap Antibacterial was more effective at killing or eliminating germs than washing with other soaps that do not contain triclosan."
The suit continues that Colgate-Palmolive "deceptively and unfairly represented to consumers that using Softsoap Antibacterial provides special health benefits, including but not limited to, statements that the product is "dermatologist tested," "clinically proven to eliminate 99% of germs your family encounters," "offers antibacterial protection," "kills 99% of common germs," "Goodbye Germ-Hello World," and is "America's most trusted hand soap."" As part of the settlement, Colgate-Palmolive will no longer make such label claims. However, this may now be a moot point since the company became one of the first to announce in 2011 that it was reformulating its soaps to exclude triclosan including its Softsoap line and Ultra-Palmolive Antibacterial dish soaps. It is unclear whether this litigation helped to influence Colgate-Palmolive's decision on triclosan. Its toothpaste however, Colgate Total®, will still contain triclosan. After legal fees, the money to be paid by Colgate Palmolive will go to Children's Health Fund, a charity assisting "medically underserved" children.
This is not the first case against triclosan-containing soaps. In 2010, a class action complaint also claimed Dial Corp. defrauded consumers about its Dial Complete soap by falsely claiming that it 'kills 99.99% of germs.' The suit stated that Dial Corp.'s claims are deceptive and misleading, designed solely to cause consumers to buy the product. In this case, oral arguments are still being scheduled and a decision is expected soon after they are presented.
Under public pressure mounted by Beyond Pesticides and others, several major manufacturers have phased out triclosan from their products. Johnson & Johnson, Procter & Gamble joined Colgate-Palmolive and began reformulating to remove triclosan from their products. Avon joined these companies in 2014, announcing it will begin phasing the chemical out of the products in its line that include it.
The U.S. Environmental Protection Agency (EPA) which also has jurisdiction over triclosan (in textiles and plastics) recently denied a 2010 petition submitted by Beyond Pesticides and Food and Water Watch requesting cancellation of registered products that contain triclosan. However, the agency did note that it will evaluate and conduct a biological assessment of the potential for effects on listed species under the Endangered Species Act (ESA) in the ongoing triclosan registration review, which began in 2013.
Since 2004, with the publication of "The Ubiquitous Triclosan," Beyond Pesticides has generated extensive documentation of the potential human and environmental health effects of triclosan. Studies show that it can interfere with thyroid and estrogen hormones, and may promote the progression of cancer cells. This is alarming given that the CDC has found that 75% of the U.S. population contains triclosan in their bodies, even in breast milk, and at levels that are rising. Triclosan is an endocrine disruptor and has been shown to affect male and female reproductive hormones and possibly fetal development. It is also shown to alter thyroid function. One preliminary study also linked triclosan to the growth of breast cancer cells.
In the face of continued regulatory inaction, Beyond Pesticides urges consumers, along with manufacturers, retailers, school districts, businesses and communities to wash their hands of triclosan and protect our water and health from this toxic pesticide. For additional information and resources on the human health and environmental effects of triclosan, join the ban triclosan campaign at http://bit.ly/BanTriclosanCampaign.
All unattributed positions and opinions in this piece are those of Beyond Pesticides.
Sources: Law360, www.beyondpesticides.org