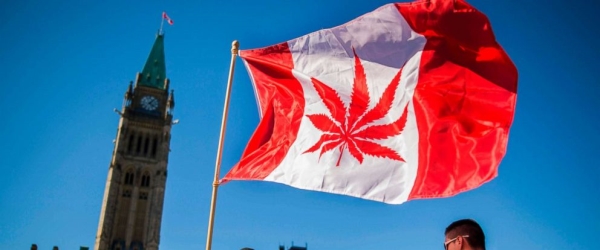 Washington, DC—(ENEWSPF)—August 7, 2018
By: Jag Davies
Drug decriminalization has rapidly emerged as a mainstream political issue in Canada and several other countries, but few U.S. policymakers have embraced it so far. That could change soon.
Ending criminal penalties for drug possession, often referred to as decriminalization, means nobody gets arrested, goes to jail or prison, or faces other forms of criminal punishment simply for possessing a small amount of drugs for personal use. This concept is already supported by a majority of the U.S. public, as well as leading governmental, medical, public health and civil rights groups.
In the past month, public health authorities in Toronto and Montreal made international news by calling for drug decriminalization — following in the footsteps of the city of Vancouver, which officially recommended in March that the Canadian government decriminalize drugs.
Two of Canada's three main political parties, including Justin Trudeau's Liberal Party, added drug decriminalization to their official campaign platforms earlier this year, signaling that candidates intend to campaign on decriminalization in the upcoming 2019 federal election.
Canada is joined by a growing list of countries — which already includes France, Georgia, Ghana, Ireland and Norway — where moves are being made at senior levels of government to pave the way for decriminalizing the personal use of drugs.
Several countries have successful experience with decriminalization, including the Czech Republic, the Netherlands, Spain, Switzerland, and — most notably — Portugal. In 2001, Portugal enacted one of the most extensive drug law reforms in the world when it decriminalized all illegal drugs.
Today in Portugal, no one is arrested or incarcerated for drug possession and many more people are receiving treatment – while addiction, HIV/AIDS and drug overdose have drastically decreased. These experiences demonstrate that ending drug criminalization – alongside a serious investment in effective treatment and harm reduction services – can significantly improve public safety and health.
The momentum has even spread all the way to the United Nations, which released a joint statement with the World Health Organization last year calling for repeal of laws that criminalize drug use and possession.
Former Portuguese Prime Minister António Guterres — the very person who oversaw implementation of drug decriminalization in Portugal in 2001 — took the helm as Secretary General of the UN in 2017. Given this, as well as the outspoken advocacy for decriminalization by former UN Secretary General Kofi Annan and the 12 former heads of state that make up the powerful Global Commission on Drug Policy, international momentum for decriminalization appears poised to intensify.
Whither the U.S.A.? Actually, the United States is closer than you might think to joining the decriminalization fray.
Polls show that a majority of U.S. voters support ending arrests for drug use and possession. A broad range of stakeholders – from the American Public Health Association and the International Red Cross to the Movement for Black Lives and the NAACP – have endorsed decriminalization. The first state-level drug decriminalization bill has been introduced in Maryland, where elected officials and a broad range of stakeholders are convening a forum on decriminalization next month.
Some U.S. jurisdictions have already taken steps in the right direction by reducing criminal penalties for drug possession, without eliminating them entirely. These efforts include "de-felonizing" drug possession by reducing it to a misdemeanor (as California, Connecticut, Oklahoma and Oregon have done in recent years), decriminalizing drug testing (also known as drug checking or adulterant screening), establishing pre-arrest diversion programs such as Law Enforcement Assisted Diversion (LEAD), and enacting 911 Good Samaritan laws, which allow for limited decriminalization at the scene of an overdose for people who are witnesses and call for emergency medical assistance.
But more ambitious efforts are needed. More than 1.3 million drug possession arrests are made every year in the U.S., fueling mass criminalization. According to a report by the ACLU and Human Rights Watch, on any given day there are at least 130,000 people behind bars in U.S. prisons and jails for drug possession — and at least 60,000 of these people are held pre-trial, which means they're locked up simply because they're too poor to post bail.
And when it comes to actually addressing drug addiction and the overdose crisis, criminalizing people who use drugs simply doesn't work — and actually makes things worse. As overdose deaths increase all over the U.S., people who want drug treatment or medical assistance often avoid it in order to hide their drug use.
If we decriminalize drugs, people can come out of the shadows and get help. Our limited public resources would be better spent on expanding access to effective drug treatment and other health and harm reduction services.
Despite our retrograde federal administration's efforts to ramp up the war on drugs, most drug enforcement is carried out at the local and state levels — which has spurred many U.S. cities and states to fight back against Trump and Sessions by moving drug policy reforms forward with increasing urgency.
For several years now, it's been a common refrain for political candidates from both sides of the aisle to say things like "we can't arrest our way out of our drug problems" and "addiction should be treated as a health issue" — yet they usually stop short of explicitly calling for drug decriminalization.
Any U.S. elected official who claims to have an evidence-based, forward-thinking public health and criminal justice reform agenda has no good scientific, ethical or political reason not to support drug decriminalization.
Let's do it, U.S.A. Let's have a serious conversation about decriminalizing drugs. Far too many lives are at stake to wait any longer.
This commentary first appeared in The Hill at: http://thehill.com/opinion/healthcare/400491-momentum-for-drug-decriminalization-surges-in-countries-around-the-world
Jag Davies is director of communications strategy at the Drug Policy Alliance. Follow him on Twitter @jagdavies.
Source: www.drugpolicy.org