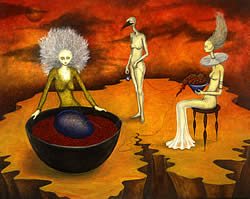 Chicago Heights, IL–(ENEWSPF)– Time flies when you're having fun…There never seems to be enough time to do all the things you want to do…too much time on your hands. We are a society obsessed with time, how we spend our time and how we manage our time. An art exhibit coming to Prairie State College (PSC) will explore various aspects of time: old stories and myths that are revisited in contemporary contexts, dreams that blend past and present, and memories and how they effect the present.
PSC will be hosting The Mythopian Artists' Group exhibit, entitled "As Time Goes By" that focuses on the human experience of time. Like the famous song that the exhibit is named for, some of the art relates to romantic love, past and present.
"As Time Goes By" will be held from November 16 through December 17 in the college's Christopher Art Gallery, 202 S. Halsted St., Chicago Heights. An artists' reception will take place on Thursday, November 19 from 4:30-7:30 p.m.
Seven artists of the Mythopian Artists Group are featured in this exhibit: Robert Kameczura, of Chicago; Karena A. Karras, of Chicago; Kim Laurel, of Chicago; Diane Levesque, of Kenosha, Wisc.; James Mesplé, of Chicago; Christine O'Connor, of Joliet; and Steve Sherrell, of Oswego. They are concerned with finely crafted narrative art that examines things old and new, beautiful and ugly, mystical and everyday.
The artists work with an array of media including oil and acrylic paintings, drawings, hand made prints, and digital art. Naomi Maurer, arts writer and curator, called their work, "Imaginative and beautifully executed."
Hours for the Christopher Art Gallery are Monday through Thursday from 9 a.m. to 3 p.m., and Wednesday and Thursday from 5 to 7 p.m. Visits can be made by appointment. For more information about the exhibit, or to make an appointment for a visit, contact the Prairie State College Foundation at (708) 709-3636.