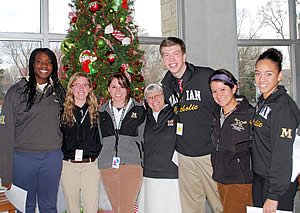 A few of the nearly 300 Marian Catholic Open House Guides stop for a quick photo with Sister Dorothy Marie, Director of Recruitment. From the left is Uzoma Nwabara (Olympia Fields), Liz Murzyn (Schererville), Beth O'Malley (Tinley Park), Sister Dorothy Marie, O.P., Jordan de Bord (Schererville), Emma Terrazas (Lansing) and Jamie Johnson (South Holland). On Sunday, MCHS Students will give tours to hundreds of families seeking a Catholic, college-prep educational experience. (PHOTO SUPPLIED)
Chicago Heights, IL–(ENEWSPF)– Marian Catholic High School will open its doors to prospective students and families with its annual Open House on Sunday, Dec. 5 from 11 a.m. to 2 p.m.
The event will feature tours, displays and plenty of informational literature to familiarize families with the quality, college preparatory education that Marian offers to students from more than 72 zip codes in Chicago, its South and Southwest Suburbs, and Northwest Indiana.
"More than 300 of our students will be on hand to conduct personalized family tours," Marian Catholic Assistant Principal of Student Activities John Kozojed said. "Open House provides prospective families with an excellent opportunity to meet the students, faculty, staff, and parents of the Marian Catholic community. Come and experience the excitement of the Marian Catholic family."
Visitors to the Open House will hear about Marian Catholic High School's 650 College Board advanced placement exams with national recognition for 117 scholars; ACT composite scores in the top 10 percent nationally, the highly selective colleges Marian grads attend, and the more than $16 million in college scholarships that last year's graduating class earned.
Marian has instituted a four-year formal leadership program for all its students and recently dedicated a Student Union Leadership Center and stadium FieldTurf™on its 72-acre campus. For its excellence in education young men and women, Marian Catholic High School was named one of the Top 50 Catholic High Schools in the United States by the Catholic High School Honor Roll in 2004 and 2006. 
Excellence is demonstrated in both men's and women's athletics, including recent achievements: women's golf, men's and women's tennis, and swimming all competed in IHSA State championships; women's basketball has made seven IHSA Elite Eight appearances in the last nine years; The 2009-10 year also featured a repeating IHSA individual state champion in men's track. Coaches and members of athletic teams will be available.
For those interested in the Fine Arts, the 7-time Bands of America Grand National Champion Marching Spartans will show a video of the 2010 performance which earned them a 31st consecutive state championship in class and seventh place at Grand Nationals this fall; the madrigal choir and Forensic (Speech) team will also be performing at various times during the Open House. Following an IHSA state champion in Radio Speaking in 2007 and Performance in the Round in 2008, Marian captured another first at ISHA state in 2010 for Group Interpretation. The Art Department will have work on display from Art I through Art IV students.
Also on display will be more than 40 clubs and organizations: Student Council, Service Club (98% of students are voluntarily involved in service), Generation Green, Equestrian Club, Model United Nations, Astronomy Club and many more. Parent groups including Mothers Club and Band Parents Association will describe parental support and involvement.
Recruitment Director, Sr. Dorothy Marie, O.P. said, "If you want a school that will help you grow spiritually, help you develop leadership skills, give you the opportunity to participate in a wide range of extra-curricular activities, provide you with the opportunity to develop friendships that will last a lifetime while also giving you the opportunity to excel in academics, athletics, and fine arts, then Marian Catholic is the school for you! Come and experience Marian Catholic at our Open House on Dec. 5! Take our entrance exam on January 8 and be a part of the Marian Class of 2015!"