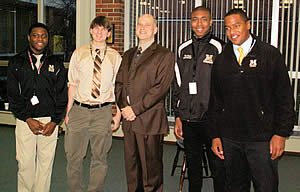 After "A One Man Christmas Carol" students who met with actor Grant Fitch were Whitney Brierre (Dolton), Andrew Wlos (Crete) Actor Grant Fitch, Nate Jackson (Sauk Village) and Cameron Lewis (Olympia Fields). (PHOTO SUPPLIED)
Chicago Heights, IL–(ENEWSPF)– On Wednesday, December 1, Marian Catholic students were treated to cookies, cocoa and actor Grant Fitch's performance of "A One Man Christmas Carol" in the school library. Using a few well-chosen props and minimal costume changes, Mr. Fitch, who has previously appeared at Marian in his portrayal of Edgar Allan Poe, brings Charles Dickens' holiday classic to life, playing 33 characters over the course of approximately one hour.
Students had an opportunity to meet with Mr. Fitch after the performance and ask questions about how he selects and prepares his literary performances.
More information on Grant Fitch can be found on his web site: www.grantfitch.com.