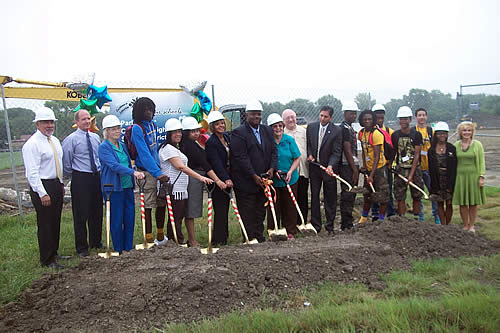 Groundbreaking ceremonies recently were held for the addition at Forest Trail School. Ready to turn over dirt are, from left, Mike Jarigese, president of Tower Contracting; Mario Planera, architect of the project; Board of Education Member Shirley McDonald; Forest Trail student; Board of Education Members Jacqueline Jordan and Allison McCray; U.S. Congresswoman Robin Kelly; Board of Education Member Margaret McDannel; Park Forest President John Ostenburg; State Representative Anthony DeLuca; Forest Trail students; and Superintendent Joyce Carmine. (PHOTO SUPPLIED)
Park Forest, IL-(ENEWSPF)- Construction has begun on the addition to Forest Trail School. The $13.9 million project provides 55,000 square feet of additional space to the school.
The single story addition includes six classrooms, a multi-purpose room that can be used as a cafeteria, a warming kitchen, and a gymnasium that accommodates a high school regulation basketball court. The gymnasium also features a fitness center and a stage. The fitness center would be accessible to the community when school is not in session. The addition will provide a glass enclosed entryway at the southeast corner of the school as well as a large entry and lobby for the gymnasium on the north side.
"This is a beautiful structure for our community," said Superintendent Joyce Carmine. "It takes advantage of natural light and offers facilities that will support our students' learning. The Board of Education and the administration are pleased to see concepts they have discussed become reality. We look forward to its opening for the 2015-2016 school year."
Groundbreaking ceremonies were held at the site on August 18. U.S. Representative Robin Kelly, State Representative Anthony DeLuca, officials of Park Forest, Forest Trail students, District families, and teachers attended the event.
The additioin is being funded by bonds, according to School District 163's business manager David Ricker.
Construction proceeds at Forest Trail Middle School (Photos: Gary Kopycinski)