Park Forest, IL-(ENEWSPF)- The Village of Park Forest is participating in "Plastic Free July." This is a global movement to encourage people to reduce the amount of single-use plastic they use. 
Sustainability Coordinator Carrie Malfeo said her department will post daily tips during July. These aim to give residents ideas on how to help the environment by not using plastic. 
"The goal is to highlight how much single-use plastic is used daily," Malfeo said. "So, if we can get people to make small changes and say no to plastic, we can see a huge impact."
Malfeo said the tips and challenges would encourage people to use reusable bags versus plastic bags. She said people could reduce plastic use by bringing silverware from home to work and eliminating plastic forks and spoons.
"Residents can use reusable items like water bottles and containers to pitch in with this effort," Malfeo said. "People may not realize that most plastic isn't easily recyclable – meaning that plastic ends up in our waterways, polluting our planet."
Data shows every 60 seconds, we dump the equivalent of one garbage truck of plastic into the ocean. 
According to United Nations Environment Programme, plastic pollution continues to be a global problem. Approximately 7 billion of the 9.2 billion tons of plastic produced from 1950-2017 became plastic waste. This ended up in landfills or dumped.
Malfeo added plastic pollution could alter habitats and natural processes. It reduces ecosystems' ability to adapt to climate change. This directly affects the livelihoods of millions of people. It affects our food production capabilities and social well-being. 
To learn more about "Plastic Free July," click here. Also, follow the Village of Park Forest Sustainability Office to see the daily tips and challenges posted in July.
Choose to Refuse in Plastic Free July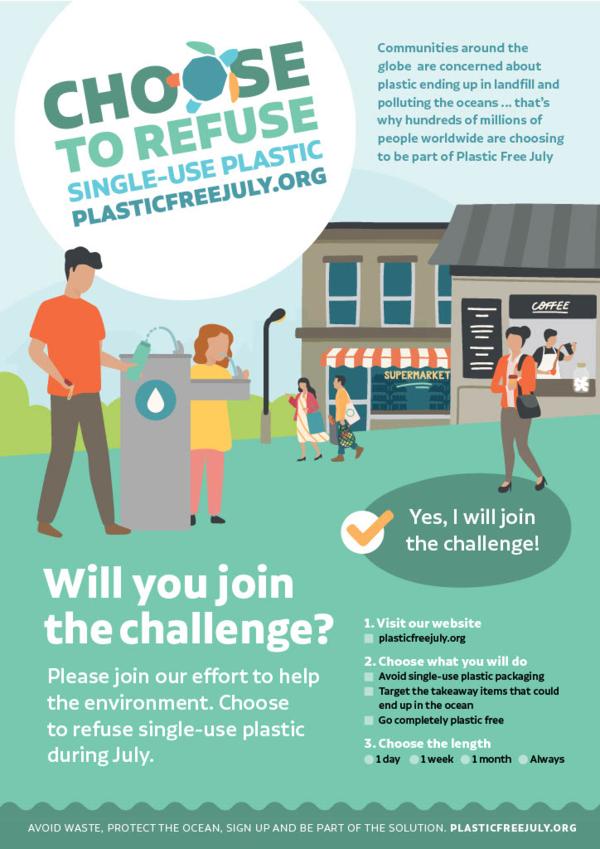 This article on Plastic Free July is from the Village of Park Forest website with edits.