Rewards of Academics, Caddying, Track, and Character
Park Forest, IL-(ENEWSPF)- Michael VanHootegem has a lot on his plate. The IHSA state track athlete was one of four Spartans to go down-state this past spring. Now he prepares to head off to college from Marian Catholic as an Evans Scholar.
Mr. VanHootegam (van-NOT-u-gam) said the process of applying for the Evans Scholarship was a long one.
"I spent majority of my summer [2022] working on it," he said. You have to have at least two years of caddy experience, good academics, financial need, and overall good character. I submitted everything, got some recommendation letters, wrote an essay about the past, filled out the FAFSA and all that good stuff."
"It's very similar to the normal college process," he said.
The Interview
He waited, eventually received an email that he made it to the interview. This was at the Olympic Fields Country Club. He spent a full school day there.
Michael recalls "a bunch of guys just staring at me."
Reflecting on the final interview, he said he stood at a podium, with two men on his left, two on his right. Additionally, there were between 40 and 50 people in the room, "along with people on Zoom listening in," he said. Standing at this podium, they're asking me questions, and I answer back. It went really well."
"I'm a very shy kid. So it's usually not my thing. But they made me feel very comfortable. And it kind of became fun, which is weird."
"It went well. And then they told me, I received a scholarship," he said.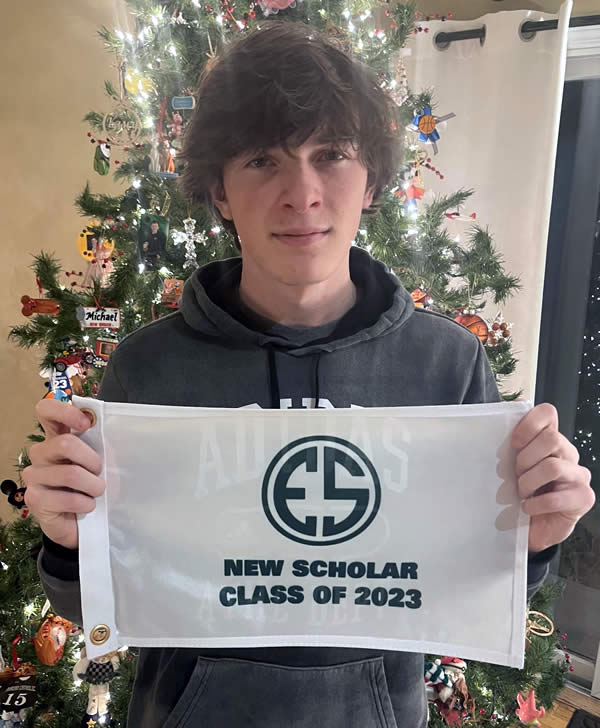 It was quite a task for a high school student.
"It was very intimidating at first," he said. "I felt like, I'm just standing there, ready for them to judge me."
A foreshadowing of a Masters or Doctoral thesis?
When we first spoke, he was undecided on college. He had acceptance letters and letters of rejection from a few schools at the time. Now?
We'll see.
"I'm confident I'm gonna end up going into engineering. You know, but I thought about business."
"Comfortable with being uncomfortable…"
He is in his third year as a caddy, starting mid-year during when he was a sophomore.
"It was a learning experience" he said. "I feel like I'm learning everything the hard way. But I feel like that's the only way to really get good at caddying. You do what you can, take the feedback you get," positive or negative, he said.
"Being a shy kid, it's very difficult. I remember the first round, I was terrified to even shake their hand. It's learning to, like get comfortable with being uncomfortable."
Take-aways from Marian Catholic from the Evans Scholar
Approaching the end of four years, how did he enjoy his high school experience?
"The teachers are very caring. I didn't expect that," he said. He was almost expecting, "teach, get your paycheck, and go. But you can tell teachers actually care and they'll actually talk to students. Even with some teachers, like Mrs Russell, for example, I haven't had her class for over a year, and she still checks in on me. She congratulated on this scholarship. You feel at home," he said.
Mrs. Russel teaches mathematics.
Loves to Caddy
On caddying, "I would recommend anyone to be caddy because it's probably one of the best jobs any teen could have. For many reasons: you're outside, it's exercise, you get paid well, you get connections, you learn a lot of discipline.
"I'd recommend it for everyone," he said. "Just be comfortable with being uncomfortable. And learn from everything that happens."
Michael has a brother, Casey, heading into his senior year at Marian Catholic. He has an older sister, 26. Mom is in Flossmoor, Dad is in Park Forest.
With his college paid for, both parents are relieved.
"Very relieved." he said. It was very, very stressful process. But once like once you see the reward, it was worth it."
Michael also runs track and earned a bid to go down-state this past spring. He placed ninth overall in the 110 hurdles and ninth overall in the 400 relay. The 400 relay team finished third in IHSA State at Charleston. The quartet of Paul Frazer, Michael VanHootegem, Tyler Lofton and Braydon Waller timed 42.28, the school reports. His track and field bio is available here.
Congratulations in college and beyond.