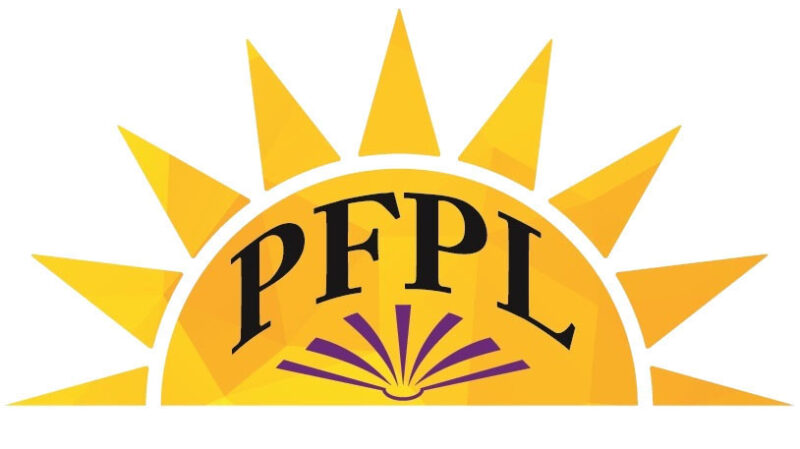 Park Forest, IL-(ENEWSPF)- The Park Forest Public Library's annual Fall Festival, "NovemberFest," returns on Saturday, November 18, from 11 a.m. to 3 p.m. All ages may stop by for live music, interactive crafts, and giveaways. You need not register for this event.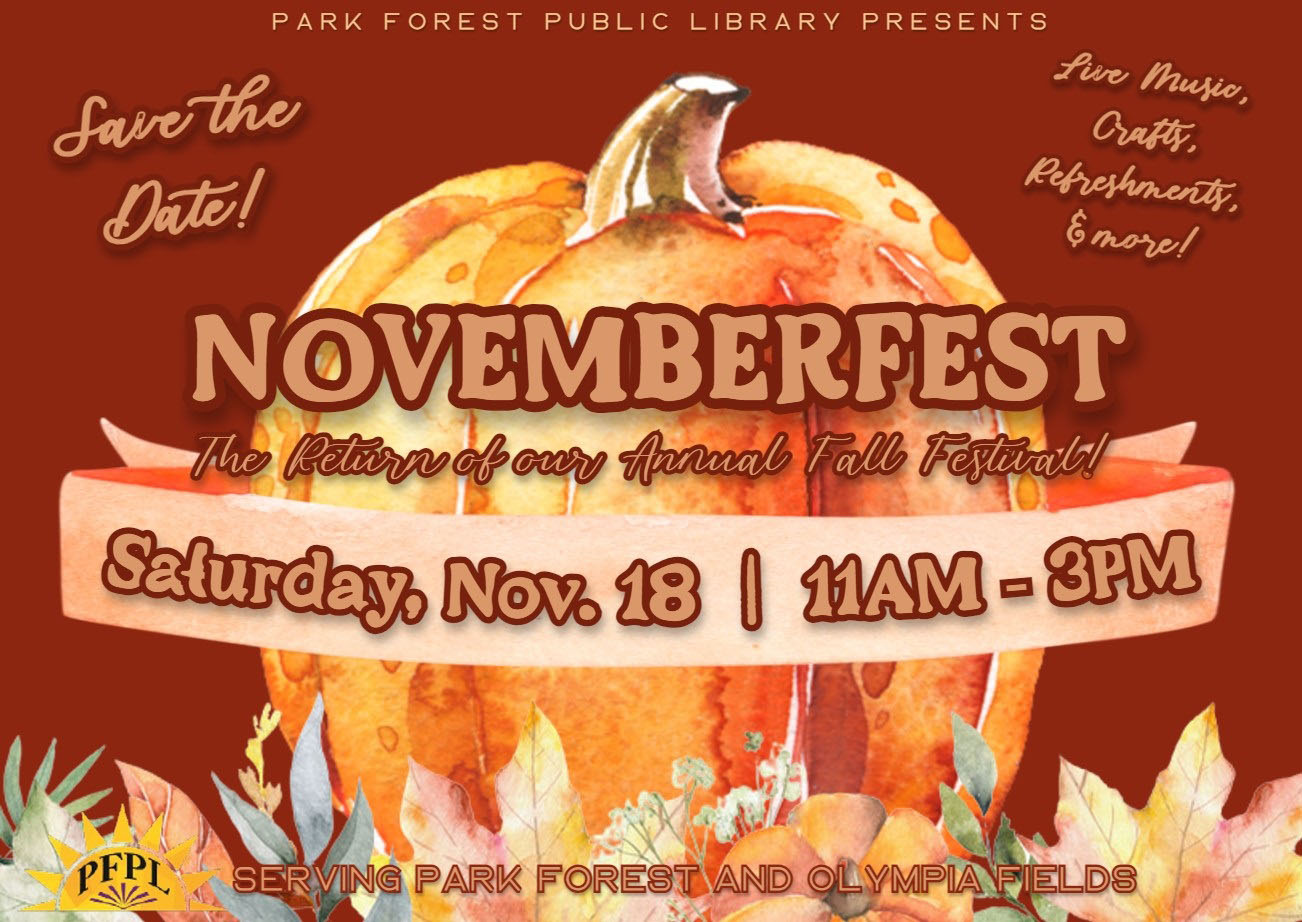 Potpourri of Lectures
A full slate of exciting topics lies ahead in November's Potpourri of Lectures, held at the library on Thursdays at 10:30 a.m. You need not register for these.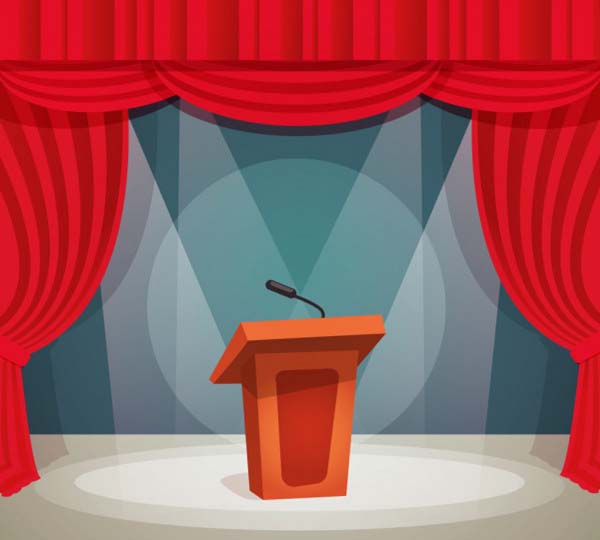 The four November sessions include:
November 2: "PFAS – History, Analysis, and Treatment" with Gary Griffin. PFAS, or "Per- and poly-fluoroalkyl Substances," a.k.a. "forever chemicals." These highly toxic substances are in many consumer and commercial applications. They have been linked to cancer, reproductive and immune system harm, and other diseases. 
November 9: "State of the Village of Park Forest" with Joe Woods. Join the Park Forest Mayor as he discusses the health of the village.
November 16: "David Hockney" with Maureen Cribbs. Hockney is one of the most influential British artists of the 20th century, with hundreds of exhibitions around the world featuring his collections.
November 30: "Waste Reduction Tips for the Holidays" by Carrie Malfeo, VOPF Sustainability Coordinator. Malfeo will discuss ways to reduce or recycle holiday wrapping and packaging.
No Pressure Community Read: "Pineapple Street"
Approaching the Fall Festival, the November No Pressure Community Read is "Pineapple Street" by Jenny Jackson. The New Times Bestselling novel follows three daughters of the ultra-wealthy Stockton family from Brooklyn Heights. You must register for this event to receive a free copy of the book, which opens at 9 a.m. on October 25. The book is available for pick-up beginning at 11 a.m. on November 1.
A Taste of Love with Maya-Camille Broussard of Justice of the Pies
A virtual presentation with the star of Netflix's Bake Squad and owner of Chicago-based "Justice of the Pies" occurs on Wednesday, November 8 at 7 p.m. She shares stories that have inspired her and offers tips on making the perfect Thanksgiving pie. Known for her partnership with charities serving communities on Chicago's south and west sides, Broussard will discuss her lifelong love of pie. The program is part of the Illinois Libraries Presents series. You must register for this event and may do so now. Registrants will receive the Zoom link needed to view the presentation.
Spider-Man Comes to the Library
On Tuesday, November 7, at 4 p.m., "Spider-Man: Across the Spider-Verse" will be shown in the Ringering Room. This 2023 PG-rated computer-animated film is a sequel to the 2018 film, "Spider-Man: Into the Spider-Verse." All ages are welcome. You must register for this event. Check the library events listing for details or contact Miss Nikki at 708-748-3731, extension 31.
Two Events Just for Kids in November
The library offers two events in November geared for kids.
The first, on November 6, is a Thanksgiving Surprise Giveaway. Stop by anytime during the day to pick up a bundle of Thanksgiving surprises. There is a limit of one bundle per family.
The second event offers free science fun kits from the Museum of Science and Industry. Pick-up is on Friday, November 17, while supplies last on a first-come, first-serve basis.
For more information on both events, check the library events listing or contact Miss Nikki at 708-748-3731, extension 31.
Movie Music with John LeGear
Closer to the Fall Festival, John LeGear features two more installments of his history of movie music in November.
On Wednesday, November 15, at 4 p.m., LeGear presents "Movie Music Memories III" showing a collection of film clips from the past 80 years. Registration for this event is now open.
Just in time for the holidays. Le Gear also presents "Holiday Movies & Music" on Wednesday, November 29, at 3 p.m. He will review some of the most memorable holiday moments in classic and popular films. For more information, contact Kaitlyn at 708-748-3731, extension 31.
Fall Festival #NovemberFest
Remember to attend a library-wide festival on Saturday, November 18, from 11:00 a.m. – 3:00 p.m.!
Our annual Fall Festival is officially returning with a fresh new look–Novemberfest: Give Thanks @ PFPL! Celebrate Autumn and everything we're grateful for this season with your friends at the Park Forest Public Library. Drop by the library for live music, interactive crafts, giveaways, and more! All ages are welcome and encouraged to attend–there will be fun for all, regardless of age! No registration is necessary–the more, the merrier! Contact the library at (708) 748-3731 for more information.
Please note: Standard library services are limited on this day–don't hesitate to contact the library to see what services will be available.
Continuing Events
Brian Thompson's "Nature's Gentle Tai Chi Gong" continues each Tuesday in November at 9 a.m. His sessions lead participants in breathing, relaxation, self-calming, and gentle movements with mental and physical health benefits. Registration opens a week before each session with a link on the library events calendar website.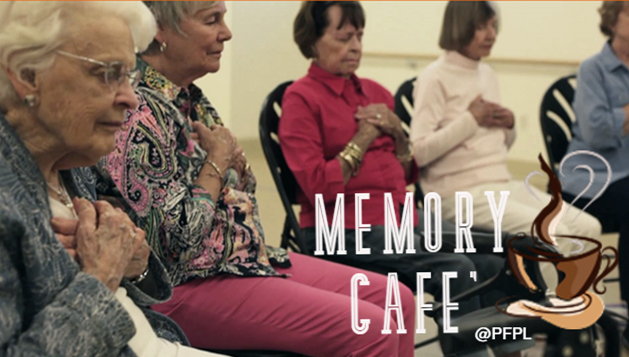 On Tuesday, November 21, from 11 a.m. to 2 p.m., the library hosts a gathering for those with Alzheimer's or other dementias and their families and caregivers. Participants can relax and socialize while enjoying presentations, activities, and refreshments. The café is open on the third Tuesday of each month. Registration is required and opens at 9 a.m. on November 14. AgeOptions funds the program.
Library Hours and Information
Additional details and registration links for all November events appear on the library's monthly water bill insert (shown below) or at pfpl.org/calendar. Find information on the remaining October events here.
The library is located at 400 Lakewood Boulevard and is open for all services from 10 a.m. to 7 p.m., Monday through Thursday, and 10 a.m. to 5 p.m., Friday and Saturday. The library will be closed on November 11 for Veterans' Day and on November 23 and 24 for Thanksgiving.