11,000 lives a year at stake as coal industry and its allies oppose EPA's Mercury and Air Toxics Standard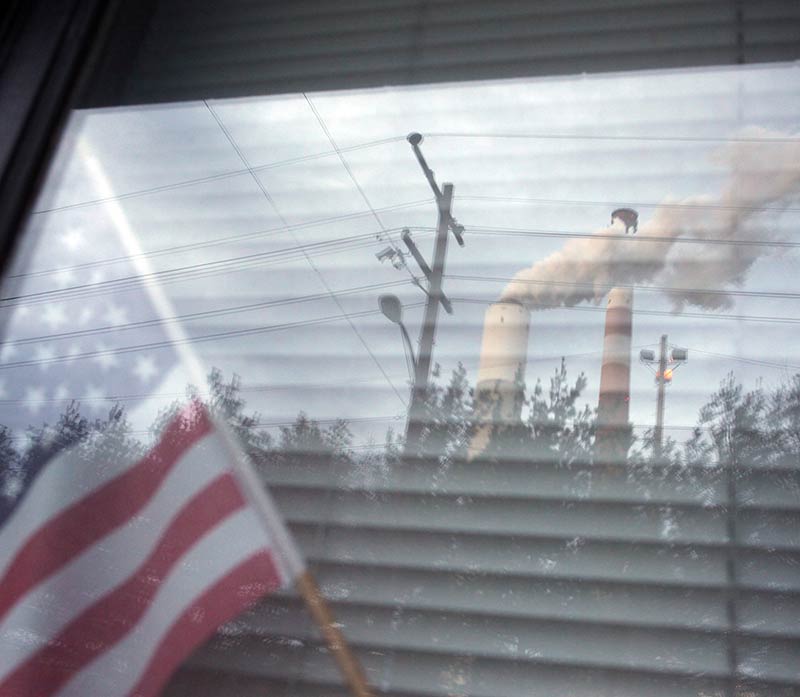 The Cheswick coal-fired power plant in Pennsylvania, reflected in a window of a home in Springdale, is among the hundreds of power plants likely covered by the Mercury & Air Toxics Standards.Chris Jordan-Bloch / Earthjustice
Washington, D.C. —(ENEWSPF)–March 24, 2015. On Wednesday, March 25th, the U.S. Supreme Court will hear arguments in a critical case involving mercury and other toxic air pollution from coal-fired power plants. At stake are up to 11,000 lives a year, and a precedent that industry profits are more important than people.
In late 2011, after an 11-year process, the U.S. Environmental Protection Agency (EPA) issued the first-ever national standards for mercury and other toxic air pollution from power plants. By requiring the worst-polluting plants to match the performance and technology of their more responsible competitors, the standards will save between 4,200 and 11,000 lives every year.
Statement from Jacqui Patterson, Director of the NAACP Environmental and Climate Justice Program: "Our report, Coal Blooded: Putting Profits Before People, found that the 6 million people living near power plants in America have a significantly lower average income than Americans nationwide, and a disproportionate number are people of color. The financial interests of corporate entities in maintaining the status quo should not trump protection of the health of these communities."
One in 20 Americans is killed by air pollution, and coal-fired power plants are a big part of the problem. These plants are also the largest industrial source of toxic air pollution by far, responsible for 50 percent of total U.S. emissions of mercury, a potent neurotoxin particularly dangerous to children. And nearly 7 percent of all U.S. women of childbearing age—more than 4 million women—are exposed to mercury at levels harmful for fetal brain development.
Statement from Jon Mueller, Chesapeake Bay Foundation's Vice President for Litigation: "The polluters fighting this battle are putting their profits ahead of the human health risks from mercury pollution. In the last 15 years, the number of states with advisories warning against consumption of locally-caught fish due to mercury contamination grew from forty states to all fifty, including those around the Chesapeake Bay."
These public health protections were already years overdue because the coal industry and its allies have been trying to derail them from the beginning. In this case they claim that EPA cannot decide whether to protect the public and the environment from toxic air pollution without first considering the effect on the industry's bottom line.
Statement from Joseph Minott, Executive Director of the Clean Air Council: "We hope that in considering this case the Court will be cognizant of the fact that the public health benefits of this rule—conservatively estimated by EPA at $37–$90 billion—will dwarf the cost to industry of bringing its oldest and dirtiest power plants up to modern standards."
Last year, the D.C. Circuit Court rejected the coal industry's argument. Industry—in a last-ditch attempt to overturn these protections—appealed, and the U.S. Supreme Court agreed to hear this case. Earthjustice, on behalf of Sierra Club, Clean Air Council, Chesapeake Bay Foundation and the NAACP, helped defend these health safeguards as respondent-intervenors.
Statement from Lisa Garcia, Earthjustice's Vice President of Litigation for Healthy Communities: "A decision for the coal industry would mean thousands of people across our country would continue to die unnecessary, premature deaths—all to protect the profits of the worst corporate polluters."
Related Legal Documents (Filed February 25)
Brief of Respondents American Academy Of Pediatrics, et al.
Brief of the State and Local Government Respondents
About Earthjustice

Earthjustice is the premier nonprofit environmental law organization. We wield the power of law and the strength of partnership to protect people's health, to preserve magnificent places and wildlife, to advance clean energy, and to combat climate change. We are here because the earth needs a good lawyer.
Source: www.earthjustice.org