Washington, DC–(ENEWSPF)–November 24, 2015.  The Canadian province of Quebec has announced plans for a major overhaul of its pesticide laws in order to protect pollinators, public health and the wider environment. Canadian provinces, particularly Quebec and Ontario, have long led the way in crafting common sense pesticide legislation that responds to sound science on the dangers of these chemicals. The proposed reforms will focus on further restricting the most toxic pesticides allowed for use in both agriculture and residential pest control, including atrazine, chlorpyrifos, and the neonicotinoid class of insecticides, which are widely implicated in pollinator declines.
"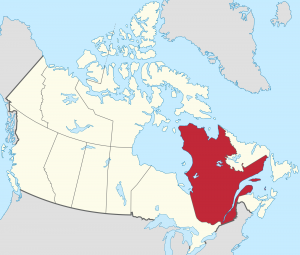 Québec has made progress in recent years with respect to responsible pesticide management," said the Quebec Minister of Sustainable Development, Environment and the Fight Against Climate Change. "However, the time is  right to intensify our efforts and become even more proficient at reducing the risks to health and the environment that are associated with pesticide use, particularly by supervising the use of highest-risk pesticides like neonicotinoids, which have a recognized major effect on bee mortality."
Quebec's Pesticide Strategy 2015-2018 is structured to incentivize farmers and home gardeners to choose lower risk pesticides through economic motivators such as levies, permits, and compensation fees. The provincial government is working closely with other public health agencies to create a pesticide risk indicator based on chemical properties to identify "high risk" chemicals that have a disproportionate impact on health and the environment. This strategy is based on the recognition that certain pesticides with the broadest range of public health and environmental effects are not necessarily those that are most often used. "Atrazine and chlorpyrifos are good examples of this," notes the government's summary document on its strategy. "These pesticides account for less than 5% of sales but 14% of health risk indicators and 20% of environmental risk indicators."
Changes for Agriculture
Quebec's reforms will alter the way pesticides are used in agricultural landscapes in the province. The government notes that 85% of all pesticide sales occur within the agricultural industry. New measures will require farmers to consult with and gain approval from an agronomist in order to apply "high risk" pesticides. This requirement is similar to that put in place in Ontario, where new regulations require farmers to prove the presence of pests before allowing the planting of bee-toxic neonicotinoid-coated seeds. However, Quebec goes further by implementing this requirement across the board for "high risk" pesticides.
When "high risk" pesticides are allowed, the province will require additional restrictions. Specifically, the government plans to increase buffer zones, the distance allowed between the use of "high risk" pesticides and inhabited areas. "By tightening the conditions under which the highest-risk pesticides can be used in agricultural environments, the Québec Pesticide Strategy 2015-2018 will offer greater protection to public health, but also to the health of farmers, who are the main users of these products," said the Quebec Minister of Agriculture, Fisheries and Food, Pierre Paradis. Groups across Canada joined the Quebec Environment Minister in celebrating the new approach. Sidney Ribaux of the nonprofit environmental group Equiterre noted, "With this pioneering strategy, Québec becomes the first jurisdiction in North America to restrict the use of the pesticide atrazine, which has been banned in Europe for more than 10 years. We salute the approach favoured by the government."
Urban and Residential Environments
In addition to curbing toxic pesticide use in agriculture, Quebec's strategy aims to reduce the public's exposure to these pesticides in urban areas. Although Quebec, Ontario, and a number of other Canadian provinces already have strong restrictions on the cosmetic use of pesticides, Quebec plans to go further to protect public health. Objectives include strengthening compliance with pesticide laws, raising applicator certification requirements, increasing buffer zones, and tripling the number of pesticides banned for use in urban areas. The new plan also contains far-reaching measures to protect bees. The government plans to ban the use of all neonicotinoids on lawns and flower beds for aesthetic purposes.
François Reeves, MD, interventional cardiologist at Notre-Dame Hospital, Centre Hospitalier de l'Université de Montréal, who joined the Quebec Environment Minister in announcing the strategy, said, "The use of pesticides is far from being inconsequential, which is why the implementation of the Québec Pesticide Strategy is so important for protecting public health and the biosphere's insect populations. This strategy will encourage more responsible pesticide management by improving practices and particularly by promoting biopesticides and keeping the use of pesticides in urban environments like lawns and public parks to a strict minimum. This will have the benefits of reducing illness caused by pesticides and stopping the decline of the bee, butterfly and earthworm populations. The massive decline in the number of vital insects imperils the basis of life: plants, trees and food. The entire population will benefit from this Strategy thanks to the positive results achieved by tighter supervision of pesticide use."
Beyond Pesticides has long advocated a regulatory approach that prohibits high hazard chemical use and requires alternative assessments. While there is certainly further steps that can be taken to reduce and eventually eliminate the use of toxic synthetic pesticides, Quebec's new approach makes significant strides towards a safer, sustainable agriculture and landscapes. Regulators in the U.S., particularly in states and localities, should watch the experience of Canadian provinces and aim to follow this health protective path. In the meantime, U.S. residents can encourage these actions by buying organic, and advocating for a pesticide free community like Montgomery County, Maryland, which recently enacted Canadian style restrictions on the cosmetic use of pesticides harmful to pollinators, public health, and the wider environment.
All unattributed positions and opinions in this piece are those of Beyond Pesticides.
Sources: Canadian Ministry of Sustainable Development, Environment, and the Fight Against Climate Change, www.beyondpesticides.org