Washington, DC–(ENEWSPF)–November 10, 2011. Two new studies released last week add further proof that the popularity of organic food is not just an elitist trend. One report by the Organic Trade Association (OTA), The 2011 U.S. Families' Organic Attitudes and Beliefs Study, finds that 78 percent of U.S. families purchase organic food. Another study by SCALE, Inc. finds that organic food is generally cheaper at farmers markets than at grocery stores in Southeast U.S.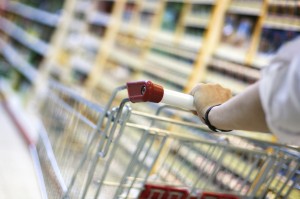 OTA partnered with KIWI Magazine, and polled nearly 1,300 U.S. families about their attitudes and behaviors relating to organic food. The total sample reflects the target population of U.S. households with a confidence interval of +/-3% at the 95% confidence level. This is the third year the study has been conducted. According to OTA, it contains in-depth information about organic consumers' demographics, purchase motivation, understanding of organic, willingness to substitute when organic is not available, and attitudes about genetically modified organisms (GMOs).
The other study, Is Local Food Affordable for Ordinary Folks?, compares farmers markets and supermarkets throughout 19 different communities in six Southeast states, including Virginia, Tennessee, West Virginia, Kentucky, North Carolina and South Carolina. Though the study focuses on local foods, it did find that when organic food was available at the market, it was generally around 16% less expensive than at supermarkets in 88% of the communities examined.
This research is in line with previous reports on the growing market of organic agriculture. A poll conducted this summer by Thompson-Reuters and National Public Radio (NPR) found that 58% of respondents say they choose organic over conventionally produced foods when they have the opportunity. Other research suggests that U.S. retail sales of organic sales are projected to double in the next few years, despite the lagging economy.
"In a time when the severity of the economy means making tough choices, it is extremely encouraging to see consumers vote with their values by including quality organic products in their shopping carts," said Christine Bushway, OTA's Executive Director and CEO. The finding is one of many contained in OTA's newly released 2011 U.S. Families' Organic Attitudes and Beliefs Study. "It's clear that with more than three-quarters of U.S. families choosing organic, this has moved way beyond a niche market," Ms. Bushway added.
According to the OTA study, four in ten families indicate that they buy more organic products than they did a year ago. The findings are in line with those in OTA's 2011 Organic Industry Survey, which revealed that the U.S. organic industry grew at a rate of nearly eight percent in 2010. Fueled by consumer choice and demand, the organic sector is one of the few components of the U.S. economy that continues to add jobs.
Nearly half – 48 percent – of parents surveyed in the OTA poll reveal that their strongest motivator for buying organic is their belief that organic products "are healthier for me and my children." Other motivators for purchasing organic included concern over the effects of pesticides, hormones and antibiotics on children, and the desire to avoid highly processed or artificial ingredients.
Organic foods have been shown to reduce dietary pesticide exposure. A study published in 2008 finds that children who eat a conventional diet of food produced with chemical-intensive practices carry residues of organophosphate pesticides that are reduced or eliminated when they switch to an organic diet. A follow up study to assess children's dietary exposure throughout the year was conducted two years later in 2010 using the same set of children. Researchers found that consumption of certain foods varied greatly by season and that government agencies may be underestimating children's dietary exposure to pesticides, and therefore the inherent risks to children's health. Another study finds that converting the nation's eight million acres of produce farms to organic would reduce pesticide dietary risks significantly.
Beyond Pesticides supports organic agriculture not only for the benefits to human health, but also as effecting good land stewardship and a reduction in hazardous chemical exposures for workers on the farm. The pesticide reform movement, citing pesticide problems associated with chemical agriculture, from groundwater contamination and runoff to drift, views organic as the solution to a serious public health and environmental threat. For more information on the importance of choosing organic see our Eating with a Conscience page. For more information on organic food and farming, visit our organic program page.
Want to do more? There are a couple of important actions right now that you can take to support organic agriculture.
Take Action:
Keep Organic Strong. Public participation is vital to the development of organic standards. Make your voice heard at the upcoming National Organic Standards meeting and send your public comment by November 13, and;
Tell your legislators to support the Local Farms, Food, and Jobs Act Local Farms, Food, and Jobs Act (LFFJA), S. 1773 and H.R. 3286, which is a comprehensive bill intended for inclusion in the 2012 Farm Bill. The legislation helps farmers and ranchers by addressing production, aggregation, processing, marketing, and distribution needs to access growing local and regional food markets. The bill would provide critical support for a number of programs that benefit organic farmers and the organic industry, as well. It also assists consumers by improving access to healthy food. The measure provides secure farm bill funding for critically important programs that support organic and family farms, expand new farming opportunities, create rural jobs, and invest in the local food and agriculture economy.
Sources: OTA Press Release, SCALE, Inc. Press Release, beyondpesticides.org
All unattributed positions and opinions in this piece are those of Beyond Pesticides.