Washington, DC–(ENEWSPF)–July 31, 2015. New information has surfaced regarding the role of agrochemical giants Bayer and Syngenta in the United Kingdom (UK)'s recent decision to temporarily allow the use of neonicotinoid seed treatment on oilseed rape crop. A record of the meeting, involving the UK government's expert committee on pesticides (ECP) and industry representatives, had previously been suppressed. The newly released record of the meeting shows that Bayer and Syngenta were the only external representatives asked to answer the ECP's questions.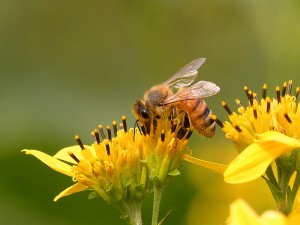 The emergency use, which has been granted for 120 days, allows growers to use Bayer's Modesto (clothianidin) and Syngenta's Cruiser OSR (thiamethoxam). The active ingredients of these products belong to a class of toxic chemicals known as neonicotinoids (neonics), which have been linked to pollinator decline. These pesticides are associated with decreased learning, foraging and navigational ability in bees, as well as increased vulnerability to pathogens and parasites as a result of suppressed bee immune systems. Used widely in agriculture as seed treatment for various crops, foraging bees, in the absence of their native habitat, are exposed to fields of poison where even pollen and nectar are contaminated. In addition to toxicity to bees, neonicotinoids have been shown to also impact birds, aquatic organisms and contaminate soil and waterways, and overall biodiversity.
The European Commission voted to suspend the use of neonicotinoid pesticides in 2013 for two years. The ban came several months after the European Food Safety Authority (EFSA) released a report identifying "high acute risk" to honey bees from uses of certain neonicotinoid chemicals. However, this action was opposed by the UK government. Despite this opposition, Britain was required to comply with the ban under European Union (EU) rules, until this newly approved emergency use.
The report of industry involvement with the UK decision is alarming to environmental advocates, given that the decision was based solely on industry data instead of balanced representative input. Unfortunately, industry manipulation over governmental regulation is nothing new. Earlier this month, a German risk assessment group relied almost exclusively on industry research in order to draw conclusions on the safety of glyphosate after it was classified as a carcinogen based on laboratory studies by the International Agency for Research on Cancer (IARC). Germany was charged by the EU with the safety review of glyphosate: yet three scientists sitting on its scientific panel on pesticides are employees of BASF and Bayer, two major pesticides producers. In addition to the extensive power of industry lobbyists in the U.S. regulatory process, industry has long exerted influence through the "revolving door," or the movement of personnel between regulatory roles in government and the industries that are affected by the regulations.
There are many other tactics that the industry uses in order to gain policy and political influence. Industry lobbyists spend millions of dollars to influence consumer behavior. The American Legislative Exchange Council (Alec), a powerful, industry-leaning lobbying organization, held its annual meeting earlier this month, promoting unscientific information about the actual state of honey bees in the U.S. These meetings seeks to influence the political process and forge relationships between corporations and politicians. When these meetings are not taking place, hundreds of millions of dollars are being spent on communication efforts to spin the media and drive consumer behavior, often using front groups that appear in the media to be independent sources, but are in fact funded by the interests of the industry.
Knowledge of these meetings is critical in influencing state and local decision makers to act because of industry-dominated regulatory decisions that assume the necessity of toxic materials, driven by companies with a vested economic interest in the policies they promote. EPA's reliance on industry-funded science, and the numerous connections between industry and the governing agencies demonstrate the need for critical thinking when it comes to the use of toxic pesticides, and the importance of adopting non-toxic and organic alternatives.
Organic food is nurtured in a system of food production, handling and certification that rejects hazardous synthetic chemicals. USDA organic certification is the only system of food labeling that is subject to independent public review and oversight, assuring consumers that toxic, synthetic pesticides used in conventional agriculture are replaced by management practices focused on soil biology, biodiversity, and plant health. This eliminates commonly used toxic chemicals in the production and processing of food that is not labeled organic–pesticides that contaminate our water and air, hurt biodiversity, harm farmworkers, and kill bees, birds, fish and other wildlife.
Sources: The Guardian, www.beyondpesticides.org
Photo Source: Susan Q, TN
All unattributed positions and opinions in this piece are those of Beyond Pesticides.