Washington, DC–(ENEWSPF)–March 30, 2015. Last week, following the World Health Organization's (WHO) declaration that glyphosate is carcinogenic to humans based on animal studies, a new study was published in the American Society of Microbiology's journal, mBio, linking glyphosate, 2,4-D and dicamba to antibiotic resistance after testing the sub-lethal effects of these pesticides in certain bacteria.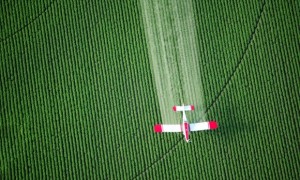 The new mBio study finds that when bacteria, specifically Salmonella and E. coli, are exposed to the herbicides described above, they responded differently to the common antibiotics ampicillin,
ciprofloxacin, chloramphenicol, kanamycin, and tetracycline. Researchers replicated real-world scenarios by purchasing weed killers from a local store and using the exact levels that are specified on the product label. This provided researchers with the opportunity to observe how the bacteria reacted when exposed to the herbicides at sublethal levels; that is, those that did n0t kill them. When the bacteria are exposed to the herbicides and the antibiotics at the same time, the exposure to the herbicides trigger a defense mechanism that otherwise would not have been triggered solely by the antibiotics. This defense mechanism seeks to rid the bacteria of toxins and is non-specific, which means while it builds resistance to the toxic effects of the herbicides, it also builds resistance to the antibiotics, creating antibiotic-resistant strains that otherwise may not have occurred.
These results do have serious implications for public health, given the worldwide crisis of antibiotic resistance. The Centers for Disease Control and Prevention (CDC) named resistance to antibiotics one of the world's most pressing public health problems of our time. Many bacterial infections are becoming resistant to most commonly prescribed antibiotics, resulting in longer-lasting infections, higher medical expenses, and the need for more expensive or hazardous medications. Although the levels at which the researchers saw effects are higher than the residues allowed on food, effects are seen at lower levels those often used in rural and agricultural settings. This means farmers, farmworkers, and individuals who live in agricultural communities where pesticides are sprayed near homes and schools are particularly at risk. Even homeowners who may assume they are out of range from agricultural areas using pesticides may experience pesticide drift, where pesticides can be transported over long distances through wind and rain, or as a result of volatilization, and cause adverse symptoms such as nausea, dizziness, respiratory problems, headaches, rashes, and mental disorientation. Children are even more susceptible and can suffer from elevated rates of leukemia and brain cancer.
We also know that it is not just the residues of the chemicals, but also the residues of antibiotic-resistant bacteria to which people are exposed that affects the development of antibiotic resistance in bacteria in the gut of people. Antibiotic-resistant strains of bacteria can develop in agricultural fields and then travel freely through the environment, transferring from one bacterial species to another. This "horizontal gene transfer" means that a pool of resistant soil bacteria can then transfer the genetic material for resistance in human pathogens. A strain of antibiotic-resistant soil bacteria may seem innocuous to humans, but the documented fact that its resistance can be transferred into human bacterial strains reveals that the use of antibiotics in agriculture can have disastrous and deadly consequences.
Moreover, the generalized mode of action discovered in this study suggests an impact that might be produced by many different toxic chemicals, and therefore the possibility that spraying any pesticide could be increasing antibiotic resistance requires further be investigated.
Glyphosate, 2,4-D and dicamba have all previously been shown to have a wide range of detrimental impacts on the environment, wildlife, and even in humans. A 2012 study found that glyphosate induces morphological changes in amphibians. Another study published by the American Cancer Society found that humans exposed to glyphosate are 2.7 times more likely to develop non-Hodgkin's lymphoma (NHL).The Environmental Protection Agency (EPA) has classified 2,4-D as a chronic risk to fish, an acute risk to plants, and a potential risk for endangered species. It has carcinogenic effects and is considered to be an endocrine disruptor. Dicamba is classified as only slightly toxic to aquatic wildlife, although acute toxicity varies wildly across species and can be increased by "inert" ingredients that are mixed with the herbicide. It has been found to cause neurotoxicity and has detrimental reproductive effects.
There are viable alternatives to using antibiotics and pesticides in food production. Chemical-intensive conventional farming methods do not provide consumers with the safest food possible. The agrichemical industry continues its attempts to inundate the media with statements that pesticides are safe and tested by EPA before registration, but the combined effects of pesticides and so-called inert ingredients (other non-disclosed and often toxic ingredients) are not documented, leaving consumers in the dark. These inert ingredients can comprise up to 99% of a pesticide formulation and may not be chemically or biologically benign. One Monsanto representative, Charla Lord, even agreed that there are unknowns, stating, "It is difficult to separate the effect of surfactants, which are known to have an impact on cultured microbes, from the active ingredients." Rather than parse the potential dangers of various pesticide formulations, the only way to definitively know that the food is the safest possible is to commit to organic agricultural practices.
Organic food contributes to better health through reduced pesticide exposure for all and increased nutritional quality. It can feed us and keep us healthy without producing the toxic effects of chemical agriculture. Our food choices have a direct effect on the health of our environment and those who grow and harvest what we eat. It is important to eat with a conscience, choosing to eat food that has been nurtured in a system of food production, handling, and certification that rejects hazardous synthetic chemicals. Choosing organic is affordable! It is possible to eat organic food while on a budget. There is also the option of growing your own food, which can be a truly fun and fulfilling experience all while providing a safer food source. There are many ways to grow your own food, such as utilizing small backyard spaces to build raised beds or vertical pallet gardens, or even something as simple as planting your own herbs in a windowsill box. Starting today, you can make the change to a healthier and safer lifestyle for yourself and those around you. Contact Beyond Pesticides for more ideas.
To discuss these issues and strategize on solutions in your community, state, and the nation, treat yourself and attend the 33rd National Pesticide Forum in Orlando, Florida April 17-18, Agricultural Justice, Age of Organics, and Alligators. You'll meet incredible people, hear spectacular speakers, and come away better informed, inspired, and empowered to make your community protective of health and the environment. And, right now we are running an early bird discount rate of $5 off the normal price through March 15. Register today!
Sources: The Guardian, www.beyondpesticides.org
Photo Source: The Guardian