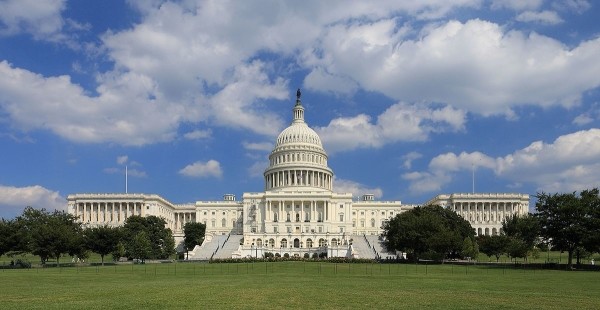 Widely-Backed by Civil Rights Groups, Legislation Opposes Sessions' Approach
Washington, D.C. –(ENEWSPF)–June 28, 2017.  Lawmakers introduced a bill today that would use the power of the purse to reduce incarceration and crime at the same time. The legislation attempts to counter archaic "tough-on-crime" policies coming from the Attorney General.
The Reverse Mass Incarceration Act of 2017 was introduced by Sens. Cory Booker (D-N.J.) and Richard Blumenthal (D-Ct.). The bill, based on a 2015 proposal by the Brennan Center for Justice at NYU School of Law, is widely-backed by civil rights advocacy groups and supporters of criminal justice reform.
The bill is essentially the reverse of the incentives provided in the "1994 Crime Bill." Instead of incentivizing states to increase prison populations, the legislation would pay states to decrease them, while keeping down crime. Federal grants have long created perverse incentives for states and localities to boost their prison populations, even when doing so provides little public safety benefit. The bill would encourage states to embolden their reform efforts, even while Attorney General Jeff Sessions attempts to increase the federal prison population.
Under the legislation, grants would be awarded every three years. States are eligible to apply if the total number of people behind bars in the state decreased by 7 percent or more in three years, and there is no substantial increase in the crime rate within the state. Overall, it would lead to a 20 percent reduction in the national prison population over 10 years.
"In 1994, Congress passed the Violent Crime and Law Enforcement Act, which created grant programs that incentivized states to incarcerate more people," said Sen. Cory Booker. "The Reverse Mass Incarceration Act would do the opposite—it would encourage states to reduce their prison populations and invest money in evidence-based practices proven to reduce crime and recidivism. Our bill recognizes the simple fact that locking more people up does little to make our streets safer. Instead, it costs us billions annually, tears families apart, and disproportionately drives poverty in minority communities."
"Our criminal justice system is in a state of crisis," said Sen. Richard Blumenthal. "Under current sentencing guidelines, millions of people – a disproportionate number of them people of color – have been handed harsh prison sentences, their lives irreparably altered, and our communities are no safer for it. In fact, in many cases, these draconian sentencing policies have had the opposite of their intended effect. State sentencing policies are the major drivers of skyrocketing incarceration rates, which is why we've introduced legislation to encourage change at the state level. We need to change federal incentives so that we reward states that are addressing this crisis and improving community safety, instead of funneling more federal dollars into a broken system."
The following groups have also spoken out in support of the legislation:
"The rise of mass incarceration was a bipartisan disaster. Both parties co-signed tough on crime policies that actually made our streets less safe and ripped apart millions of families in the process," said Van Jones, Co-founder of #cut50, President of the Dream Corps, and CNN Commentator. "It's time for Congress to begin to unwind this mess. The Reverse Mass Incarceration Act is not just good legislation – it's a necessary step forward. States are desperate to reduce their prison populations and cut down on rising criminal justice costs. This bill will help incentivize evidence-based programming that could lead to a 20% reduction in our prison population while also reducing crime."
"We have the highest rate of incarceration in the world and it's not something about which we should be proud. We have needlessly sent hundreds of thousands of people to jail or prison who are not a threat to public safety and taken billions of dollars from education and human services that could help create healthier, safer societies," said Bryan Stevenson, founder and executive director of the Equal Justice Initiative. "We have burdened families, communities and individuals who need help, not extreme punishment. With misguided subsidies and federal dollars, we have created an incarceration crisis in too many communities. This Act is a critically needed response to the problems over-incarceration has created in America. This is urgent, important legislation that deserves all of our support."
"The federal government has a long history of dangling money in front of state and local leaders to spur policy changes," said Inimai Chettiar, the director of the Brennan Center's Justice Program. "We saw it with the 1994 Crime Bill, which helped put more people behind bars. This bold bill shifts the current flow of funding in the opposite direction. It is one of the single biggest steps we can take to reduce imprisonment."
"The way America incarcerates is one of the biggest civil rights issues of our time, and a stain on our national conscience," said Nicole Austin-Hillery, director and counsel in the Brennan Center's Washington, D.C., office. "We're grateful that Senators Booker and Blumenthal are taking such a big step today toward righting that wrong."
"No community has been hit harder by this country's epidemic of mass incarceration than communities of color," said Hilary Shelton, director of the NAACP's Washington, D.C., Bureau. "Laws passed in the 1990s contributed to massive racial inequality in our criminal justice system, and this legislative proposal is a greatly-needed opportunity to address some of the Draconian policies from the books and set up a new, more effective mechanism that incentivizes positive and long-term change."
"This is an important step forward in the effort to roll back the effects of mass incarceration, which have disproportionately impacted African American and other minority communities for years," said Kristen Clarke, president and executive director of the Lawyers' Committee for Civil Rights Under Law. "Individual states are making headway on bi-partisan driven reform. With the Reverse Mass Incarceration bill, Congress can incentivize and drive positive criminal justice reform from the national level."
"The call for ending mass incarceration is deeply personal for people like me who know, from first-hand experience, why we need a more safe and just system," said Glenn E. Martin, President and Founder of JustLeadershipUSA. "After spending six years in prison, I realized that meaningful changes to our criminal justice system demand bold and innovative solutions. The Reverse Mass Incarceration Act rolls back counterproductive incentives that contributed to the incarceration boom, instead rewarding states that simultaneously reduce crime and the number of people locked up. Without these sorts of common sense reforms, mass incarceration will continue to waste human capital while consuming scarce public safety resources. After decades of policy making that has weakened families and communities, it's critically important to get it right this time and pass the Reverse Mass Incarceration Act."
"Senators Cory Booker and Richard Blumenthal have developed a creative policy proposal that would serve as a powerful tool to accelerate state efforts in reversing the damaging impact of mass incarceration," said Marc Morial, President and CEO of the National Urban League.  "Through the Reverse Mass Incarceration Act of 2017, the federal government would incentivize states that diminish mass incarceration rates through enacting prison-reduction policies, developing objective public safety measures, and by using evidence-based programs as alternatives to confinement. This proposal builds on smart prison-reduction policies while also reducing crime. The National Urban League applauds Senators Booker and Blumenthal on this important effort and is committed to working with them until this bill is signed into law."
Source: http://brennancenter.org