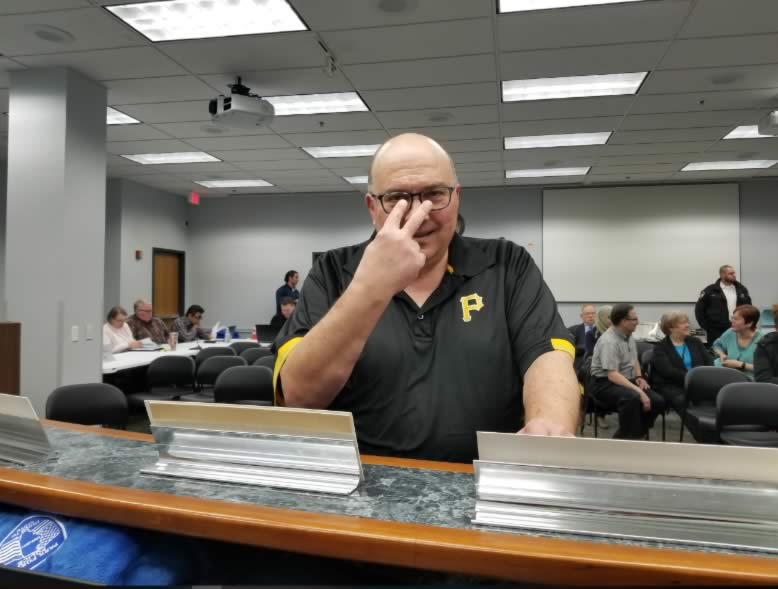 Park Forest, IL-(ENEWSPF)- It's been a few weeks since I wrote one of these columns. Looks like it's been over a month: June 25 was my last. Been a while and there's been a reason for that.
First, some community announcements.
Tall Grass "Sky's the Limit" Show Opens Saturday
Tall Grass Art Association's newest show, "The sky's the limit … and everything is possible!" opens this Saturday, August 3. The artist's reception is from 1:00 p.m. to 3:00 p.m. Come if you want to meet one or all of the 76 artists in this show.
From Tall Grass:
The Tall Grass Juried Artists family includes artists and craftspeople, educators and curators, and their works have been exhibited and recognized with awards and honors regionally, nationally and internationally.

You may know lots of the wonderful artists in this year's show; many may be brand new to you, too!

Deb Anderson, Kelly Anderson, Darcy Berg, Judi Boehner, Mary Bookwalter, James Bowden, Carole Joy Brejcha, Peter Brenner, Sharon Burrink, Javier Chavira, Patricia Cheffer, Claudia Craemer, Maureen Hubbard Cribbs, Linda Curl, Robert Daum, Rita Dianni-Kaleel, Barbara Eberhard, Pam Eberlin, Bronwyn Elkuss, Judy Fan, Andrea Fox, Irene Ganas, David George, Alicia Goodwin, Margi Hafer, Eurnice Harris, Linda Lane Haynes, Jeanine Hill-Soldner, Fran Hollander, Christen Huss, Nikkole Huss, Pat Coffman Huss, Jean Janssen, Dennis Jennings, Robert Johnson, Jack Kapost, Kamisha Langsdale, Amanda Lorance, Paula Mattson, Claudia McCarthy, Tim McCue, Pam McDonald, Diane McGarel, Joe McIlhany, Art McNaughton, Janice Meister, Jennifer Meyer, Chuck Michaels, Jeanne Monahan, Robert Mongeau, Patricia Moore, Diane L. Nadler, Sandy Newell, Julia Oehmke, Kate Patterson, Michael Perrott, Joseph Perryman, Kiet Pham, Pottery Boys – Keith Herbrand and Glenn Woods, Janice Pratt, Ginny Raftery, John Ray, Angie Redmond, Jataun J Rollins, Richard Schmidt, Linda Shannon, (WOW) – Sandy Squillo, Patrick Thompson, Terence Travis, Catherine Trezek, Mary Ann Trzyna, Nance Tucker, Christopher Tuscan, Carol Weber, and Elmira Wilkey.

On view in The sky's the limit will be oil, acrylic, and watercolor paintings; works in pastel, mixed media, and printmaking; photographs, ceramics, fiber works, jewelry, and sculpture.

Artists have found inspiration in people, animals, landscapes, architecture, still life, mythology, history, and pure design. They approach their works in diverse ways – through extremely realistic and literal interpretations, as expressive variations on observed reality, and as completely invented and imagined situations and environments.

The exciting part of each year's Juried Artists show is that there is such a broad range of experience, subject matter, technical skill, and personal vision.

This year's exhibit offers all our visitors something to enjoy and find beautiful!
The show runs from August 3 through September 22, 2019.
Justice Advisory Council Grants to Provide Services to Justice-Involved Pregnant and Postpartum Women
This from Cook County Board President Toni Preckwinkle:
Cook County Board President Toni Preckwinkle is pleased to announce that the Justice Advisory Council has awarded two grants of $250,000 each to Catholic Charities and the McDermott Center, D/B/A Haymarket Center, to provide comprehensive services to justice-involved pregnant and postpartum women and their young children. The grants fund services including counseling, parenting skills, drug treatment, job placement, and medical care. 

Catholic Charities and Haymarket have a long history of serving women in the justice system. The overriding concern is that justice involvement must not prevent a woman or her children from receiving the best possible health care. In turn, this health care must be supported by substance abuse treatment, housing, counseling, education, and employment services. Services will be provided countywide. 
Still No Potable Water in University Park
If anyone in Park Forest village government is flirting with the idea of pushing to privatize our water system with, oh, I don't know, Aqua Illinois or some other such company, consider this: University Park still has no potable water. One UP resident told eNews Park Forest he has over 30 cases of bottled water in his living room.
Imagine.
There are all kinds of chatter on social media among University Park residents hoping for a refund from Aqua Illinois, but no refund changes the simple fact that the problems in University Park's water system have not been resolved. According to WGN, "An estimated 1,500 households, all in University Park, remain under a 'do not consume' advisory."
More from WGN, which reports that lead problems in UP first surfaced in 2018:
"It could take several months before this is resolved at this point," Aqua Illinois President Craig Blanchette tells WGN Investigates.

The problems began after Aqua changed the suburb's water source from well water to the Kankakee River in January 2018. A new treatment chemical was added to strip out the iron in the system.

Blanchette said that caused lead in the plumbing systems of some older homes to lead into the water.

Experts say there's no such thing as safe levels of lead.
Who exactly decided to throw that "new treatment chemical" through the UP water system?
Just a Stone's Throw
Had to have my windshield replaced. On my last Friday visit to Chicago Rush, I heard a "thump" but saw nothing. Don't recall if I was passing under a viaduct or if a stone was thrown up from the Dan Ryan.
A large "S"-curved crack developed. Called Mike Jordan State Farm and was advised to call either Safelite AutoGlass or Gerber Collision & Glass. For what it's worth, Gerber's quote was about $100 less than Safelite's.
Your mileage may vary.
My Hybrid Cardiac Ablation
Just over a month ago, I had the first part of a hybrid cardiac ablation. That turned out to be an uncomfortable procedure to recover from. It involved a surgeon inserting a device under my sternum and ablating, or burning and/or freezing, electrical receptors on the back of my heart.
The problem is atrial fibrillation. My atrial fibrillation is complicated by a genetic abnormality of my heart called hypertrophic cardiomyopathy, a.k.a. HCM, or, in my case, HOCM: hypertrophic obstructive cardiomyopathy. That means that somewhere along the line when I was growing up, instead of the heart muscles continuing to grow in a striated manner, they went myopic and began to clump. So the septum of my heart is thicker than it should be. This condition is actually pretty common, affecting about one in 500 people. However, most people never know they have it, live their lives and are never diagnosed nor in need of a diagnosis. They discovered it in me when I was running marathons and other distance races. The condition is one where endurance athletes will suddenly collapse and die unless there is a defibrillator nearby or emergency personnel are called immediately.
So, my heart is weird. The HCM makes getting the atrial fibrillation more difficult to control. So, while most people with atrial fibrillation might need a cardioversion or two and perhaps one ablation, I've had a number of cardioversions in addition to the four ablations I had in the last year, three ablations inside the heart and one on the outside.
Previously, I had had two regular cardiac oblations where my electrophysiologist, Dr. Kousik Krishnan, inserted a catheter inside my heart and ablated receptors along the inside of the heart, at one point punching through my heart's septum to do the other side. The hybrid ablation involved a surgeon, as I said, ablating the back outside of the heart and then my electrophysiologist following up and ablating the inside of the heart again.
That at any rate, was the plan.
What I had been told initially by my electrophysiologist was that the hybrid ablation would involve the surgeon ablating the outside of the heart and my electrophysiologist ablating the inside of the heart all in the same day. When I finally got an appointment to meet with a cardiac surgeon at Rush Chicago, he responded to that plan by telling me, "Well, that's one way of doing it."
Apparently, no one from the cardiovascular group at Rush communicated this to my electrophysiologist, that the cardiovascular surgeons actually had a different plan. They kept that plan to themselves, neither telling me or, more importantly, my electrophysiologist.
So, I waited months, at least five months, for the cardiovascular surgeons and my electrophysiologist to find each other and schedule this hybrid procedure on the same day.
The cardiovascular surgeons are relatively new to Rush University Medical and, near as I can tell, they operate like a hive and no one knows who the Queen is. Neither my regular cardiologist at Rush nor my electrophysiologist understood why they had me meet with a surgeon who does not do this procedure. As far as the cardiovascular group is concerned, however, that's fine with them.
The biggest disappointment is that it took months for my electrophysiologist to finally be able to speak with the surgeon who does the first part of the hybrid ablation. He kept calling their group, asking to speak with the cardiologist who does the hybrid ablation.
Their offices in Chicago are in the Professional Building, on the eleventh floor, right across the elevator lobby from each other. They might as well be on separate planets.
He asked me to remind him once a week via the patient portal to call them again. Finally, a surgeon responded to him and they had some conversations. That surgeon apparently told him it didn't matter if I met with their group or not prior to the hybrid procedure. Then, I went in for a scheduled appointment with my electrophysiologist and, as I recall, he put his palm over his face and expressed his frustration with the cardiovascular group because the surgeon he had been put in contact with was not the surgeon who actually did the hybrid procedure. So, he had to get in touch with the surgeon who actually did that procedure.
I was finally admitted to Rush on June 20 after a transesophageal echo (TEE) confirmed that there were no blood clots in my heart. The surgery with the cardiovascular surgeon happened on Friday, June 21. It was that morning that I met for the first time the surgeon who does this procedure. I also saw and met with my electrophysiologist that morning and the plan, before they put me under, was that I would get the external ablation on Friday and the internal ablation on Monday.
That was fine with me. After all, it had taken over five months to schedule this procedure. I was happy that it was finally getting done.
When I woke from the anesthesia on June 21, I was informed by people from the cardiovascular group – other surgeons, nurse practitioners, physicians assistants, I don't remember who – that the second part of the hybrid ablation with my electrophysiologist would actually take place in about six weeks.
I found myself very frustrated and angry. Asked for an explanation from the cardiovascular group and, essentially was told, this is the way they do things. If by doing things, that means not communicating well, they've got that down.
Later in the day, a fellow from the electrophysiologist group came by to see me and she told me that, yes, it was true, my electrophysiologist would not do his part for about six weeks.
I expressed my frustration with a nurse who vowed to get my electrophysiologist on the phone for me. He called later Friday night and apologized. He told me that he learned just that day that the preferred method of doing this hybrid ablation was to allow the cardiovascular surgeon to ablate the exterior of the heart, allow the inflamed heart muscle to heal and subside, and then he would come back and ablate the inside of the heart. He said that the cardiovascular surgeon only communicated that to him that morning, Friday, June 21, after I was anesthetized. He then called the company that makes the instrument that the cardiovascular surgeon inserted under my sternum and the company confirmed for him that, yes, it was best to allow the heart to heal for 4 to 6 weeks and then ablate the inside of the heart.
I felt relieved and grateful and thanked him for his honesty and the fact that he was willing to still take advice and learn new things.
As far as the cardiovascular surgeons go, they are new to Rush a little over a year now and, according to someone on staff during my last hospitalization, they get a lot of leeways because they bring a lot of business into the hospital. However, they still do not communicate well with others, operating like a hive or the Borg from Star Trek.
What do they have going for them? I have felt a marked improvement since their part of the procedure after the pain subsided. And after my electrophysiologist, Dr. Kusik Krishnan completed the internal ablation on Monday, July 22, I have felt great.
What does this mean? I don't know if I'm still in atrial fibrillation. I can never tell. But I can walk, I can talk, and I can breathe, and these are things I struggled with over the past few years as the atrial fibrillation continued and got worse.
The next big thing? Somewhere along the line, a pacemaker. Not for the a-fib, but because I have a low heart rate: sometimes 38 BPM when resting.
Have I mentioned I have a weird heart?
Medicare for All
Which brings me to another issue: I'm very lucky to have the healthcare coverage I do. Millions still do not, and that's wrong.
How many GoFundMe campaigns have you seen and/or donated to for someone trying to cover the cost of a medical procedure?
There is plenty of money in the economy for all of us to get coverage. Expand Medicare for everyone, raise my taxes and take away the money I pay and my employer pays every month for health insurance.
Heck, make Medicare optional for those who wish to have it. Allow those who wish to keep private health insurance to keep their coverage.
When it comes to healthcare, we must cover everyone, leave no one out.
Until next time, peace.