Veritas III Gala Raises More Than $113,000 for Scholarships
Chicago Heights, IL-(ENEWSPF)- Marian Catholic continued its year-long celebration of the school's 60th Anniversary with Veritas III, a scholarship benefit held on February 22, 2019 in the Sr. M. Paul McCaughey, OP Leadership Center. Alumni, parents, faculty members, and friends gathered to commemorate the occasion and support Marian Catholic students.
Welcomed by Master of Ceremonies, Martin Oosterbaan '77, guests enjoyed a reception, dinner, and entertainment by members of Marian Catholic's jazz band and choir. A live auction and paddle raise generated over $113,000 in scholarship funds for Marian Catholic Scholars with a Soul. Student speaker Payton Ramsey '20, a scholarship recipient from Matteson, Illinois, expressed her gratitude for the assistance she receives that enables her to be a part of a community where she can find and be herself. "You are allowing myself and hundreds of other students in similar situations to receive the education every child deserves. So thank you, thank you, thank you, for giving me the chance to continue becoming the person I dream to be."
During the evening, Ms. Margie Pelino, a resident of Orland Park, was honored with the Dominican Legacy Pillar Award. The award recognizes individuals who have served as pillars in the Marian Catholic community by supporting and sustaining the mission of Marian Catholic High School. An alumni parent and former school advisory board member, Ms. Pelino has demonstrated an unwavering enthusiasm for the mission and values of Marian Catholic for over 30 years.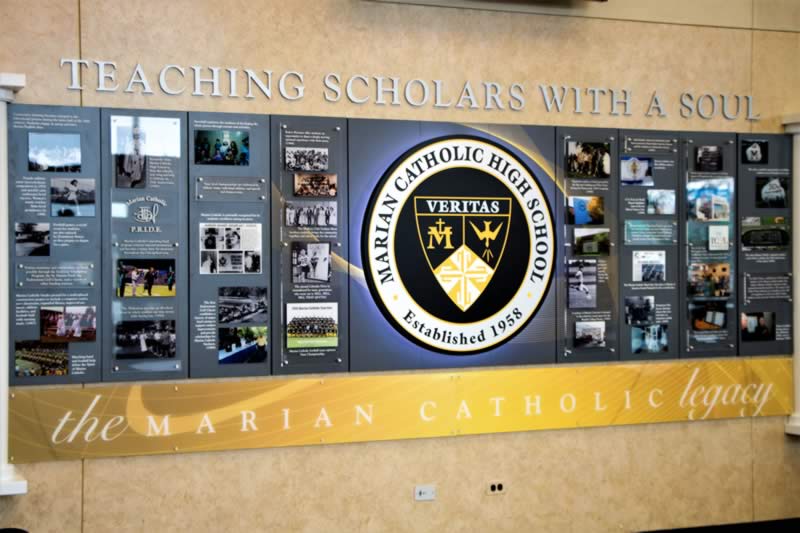 As part of the festivities, a new legacy display that chronicles Marian Catholic's 60-year history was unveiled in the Leadership Center. A permanent installation, the display highlights the school's heritage in text and images, beginning with its founding by the Dominican Sisters of Springfield, Illinois in 1958. New segments will be added to the display in the future to document Marian Catholic's next 60 years.