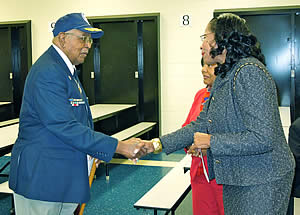 Dr. Blondean Y. Davis, superintendent, Matteson District 162, welcomes Tuskegee Airman Virgil Poole to Matteson School's Black History Month celebration. On right is Pamela Powell, Matteson School principal. (Photo: Yvonne Williams).
Matteson, IL – February 23, 2012– Pride and perseverance were the bywords of the day when Matteson Elementary School marked Black History Month today with a visit by an African American hero who helped change U.S. history during World War II.
"I'm very proud of my great-grandfather, Virgil Poole, because he was a pioneer, a man who integrated U.S. military and became one of the famous Tuskegee Airmen. They were the first Black men to fly U.S. combat aircraft," said Justin Campbell, a Richton Park nine-year-old third grader, as he introduced his famous relative to 150 classmates.
"I've a lump in my throat because I, too, am proud that I can stand here before you today, in my ninety-first year, surrounded by four generations of my beautiful family," responded Poole, of nearby Glenwood, as he addressed students, faculty and community leaders who attended the brief assembly in the school's lunchroom that was awash in flags, balloons and bunting.
"In the 1940s,Tusgekee Airmen," Poole explained, "persevered to reverse the mistaken idea that Blacks didn't have the capacity to fly military aircraft. We proved that senior military commanders were wrong, because we served with distinction during very challenging days and under heavy combat conditions."
Speaking to the Matteson students, Poole, whose grandparents were slaves, said, "As you grow, you'll need to persevere, too. That means staying focused on your studies, listen to your parents, and do the very best you can in all that you undertake. Understand that you don't need to think about being treated equally by others, because you were born equal. But you need to polish that equality by working hard and staying focused in all that you do. Whatever you undertake– do it completely and thoroughly."
Poole, a native of Birmingham, Alabama, explained that after earning a degree from the University of Chicago he was drafted in 1942 into the U.S. Army and sent to Fort Custer in Michigan. There he saw a poster that read: "Uncle Sam Wants You" and down on the bottom in smaller type was a notice that read: "Negroes wanted to apply for air service training at the Tuskegee Institute, Alabama."
"It didn't take me long to return to my native Alabama and begin flight training," he said.
Poole became a chief operations and intelligence specialist in the 99th Flying Pursuit Squadron stationed in Italy. Later, he served in the South Pacific.
More than 1,000 African American Tuskegee Airmen, serving in segregated units, flew or maintained combat aircraft in Europe, the Mediterranean and North Africa, escorting bomber aircraft on missions and protecting them from the enemy.
To distinguish themselves from other aircraft, Tuskegee Airmen painted the tails of their aircraft red so they became known as "Red Tails." 
Poole wore with pride the Congressional Gold Medal—the nation's highest civilian honor—that he and his fellow Tuskegee Airmen received in 2007 from President George W. Bush. 
After the War, Poole returned to Chicago where he served from 1945 to 1968 in the Chicago Police Department. By the end of his career he commanded the Chicago Housing Authority police unit.
In response to his remarks and visit to Matteson District 162, Superintendent Dr. Blondean Y. Davis  told Poole that she was very moved by his thoughts because,  " you represent the very same values of achievement, courage and perseverance that all of us who serve the children in this school district have. Welcome to the family. You're truly one of us," she said.
Rick Reinbold, president of the Village of Richton Park, saluted Poole for his service and achievements and expressed the appreciation of the community for all that he and his fellow Tuskegee Airmen did for the U.S.
Ernie Mercer, commander of the General Benjamin O. Davis VFW Post 311, named in honor of a famous Tuskegee Airman, extended an invitation to Poole to join with fellow VFW members when the Post's new "Red Tails Grill" is dedicated.