Chicago Heights, IL-(ENEWSPF)- Through the nearly 60 years of Marian Catholic High School's existence, nobody has been a more recognizable face or consistent contributor and inspiration to Marian Catholic than Dave Mattio '66.
A winner in so many facets of his life for more than 68 years, Mattio lost his battle with pancreatic cancer in the early morning of September 7 while surrounded by a very loving and supportive family.
As a student beginning in 1962 and Marian Catholic staff member since 1971, Mattio made his mark as an innovative Athletic Director beginning in 1974 and one of the state's most successful head football coaches beginning in 1976.
However, he also set a blueprint for being the best you can be as a comrade, co-worker, friend, son, father, grandfather and husband. Mattio was always a leader in much he did with the East Suburban Catholic Conference and often the first to lend a hand or offer a favor to any department within the walls of Marian Catholic.
Learning from Marian legends and mentors like Don Berg and Mike Goldrick, Mattio developed a charismatic personality of his own, one that included catchwords like "ownership… electricity… family… loyalty." They were not only part of the terminology, but words he lived by.
There's little doubt his leadership and example led to sending hundreds of athletes on to the next level. Along with a long list of college athletes and several high school and collegiate coaches, Mattio coached four future NFL regulars, including John Holecek '90, Super Bowl winners Mike Prior '81 and Rodney Harrison '91, and current Tennessee Titan Denny Kelly '08.
In 2013, Spartan Stadium on Marian's campus gained additional recognition with the naming of "Dave Mattio Field," a location where many of Mattio's 251 career victories were earned. His teams posted an overall record of 251-141 for a winning percentage of .640. The win total places Mattio in the all-time Top 25 for Illinois high school football.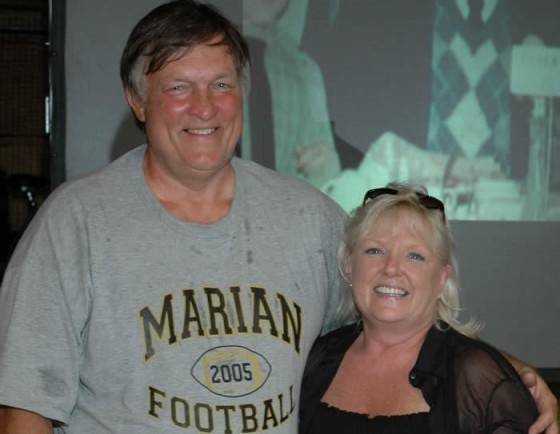 Marian teams under Mattio's leadership as head coach (1976-2012) made 20 IHSA Playoff appearances, including winning the 1993IHSA Class 4A state championship with a 14-0 record. His Marian squads made four visits to the IHSA semifinals and also won the Chicagoland Prep Bowl Championship in 2000.
Although some of Mattio's tenure was spent with the Spartans as an independent, he guided Marian to seven conference championships, including two in the Illini-8 Conference, four in the East Suburban Catholic Conference and one in the Catholic Metropolitan Conference Blue Division.
During Mattio's tenure, Marian compiled a record of .500 or better in 31 of 37 seasons.
Mattio is a member of several Halls of Fame, including Marian Catholic, the East Suburban Catholic Conference and the Illinois Football Coaches Association. It was recently announced that two annual ESCC awards will bear his name.
Hundreds of friends and former players turned out recently on June 11 for a night dedicated to honoring Dave Mattio and his family. On that night, it was announced that Marian Catholic will establish a Mattio Family Scholarship to honor the longtime Spartan and help future students attend his alma mater.
Mattio graduated from Northern Illinois University with bachelor's and master's degrees in Science of Education. He returned to Marian as an assistant coach in 1971 and became varsity head coach in 1976.
Married to best friend Jody, the couple has five children: Jennifer, Jolie, Jeannie, Jamie and Joshua; and 15 grandchildren: Jeremy, Jordan, JoAnn, Madison, Noah, Cassidy, Dylan, William, Gianna, Anthony, Gabriella, David, Austin, Ryan and Olivia. His parents, Leonora and the late Americo were common fixtures around the Marian football program.
– Kevin Kelly '80, Associate Athletic Director
Arrangements are pending and will be updated here when available.