Washington, DC–(ENEWSPF)–February 27, 2015. New research from the University of Minnesota presents some of the first evidence linking the bee-killing insecticides known as neonicotinoids to monarch butterfly deaths. The study finds that milkweed plants, which monarch butterflies need to survive, may also retain neonicotinoids from nearby plants, making milkweed toxic to monarchs.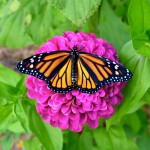 Monarch population numbers have fallen by 90% in less than 20 years. This year's population was the second lowest since careful surveys began two decades ago. The critical driver of monarch decline is the loss of larval host plants in their main breeding habitat, the midwestern Corn Belt. Monarchs lay eggs exclusively on plants in the milkweed family, the only food their larvae will eat.
University of Minnesota entomologist Vera Krischik, Ph.D. fed butterflies milkweed plants treated with the neonicotinoid insecticide known as imidacloprid in amounts that might typically be found on backyard plants. While adult monarchs and painted lady butterflies were not affected, which, according to Dr. Krischik, indicates the ability of the adults to detoxify, the larvae of both species of butterflies died.
During the course of the study, larvae fed on the treated plants for seven days.
"For the monarch, nobody was left that were feeding on the treated plants," said Dr. Krischik, whose research has been accepted for publication by a scientific journal." For the painted lady (butterflies), there were a few scattered larvae that made it to the end of their feeding period."
Dr. Krischik says her research shows a potential risk to monarchs when neonicotinoids are used in backyard plants near milkweed plants. She did not look at the impact of much lower insecticide rates used in farm fields.
"I would say if you're using it in your backyard and you're applying this to a rosebush right next to the milkweed, the risk is high," she said.
Recently, the U.S. Fish and Wildlife Service (FWS) announced plans to conduct a year-long status review of the monarch butterfly to determine whether the species is eligible for protection under the Endangered Species Act (ESA). FWS is taking this action as result of an August 2014 legal petition filed by health and environmental groups that presented substantial information indicating that listing under the ESA may be warranted. In November 2014, Beyond Pesticides joined over 200 environmental groups and businesses in a letter asking for federal protection for monarch butterflies in the wake of shocking declines. FWS has also pledged $3.2 million as part of a new campaign to save the imperiled species.
The decline of monarch habitats is not the only environmental effect linked to the pervasive use of highly toxic herbicides and insecticides. For example, the emergence and spread of glyphosate-resistant "super weeds" is strongly correlated with the upward trajectory of herbicide use, according to a study conducted by Charles Benbrook, Ph.D. Glyphosate, the active ingredient in Monsanto's Roundup formulation, is one of the most widely used conventional pesticide active ingredients in the U.S. And, similar to monarch butterflies, honey bees and other wild bees have also been experiencing a drastic decline in numbers that has been linked to the prevalent use of neonicotinoids.
Critical to the survival of monarchs, other pollinators, and organisms essential to ecological balance is the large-scale adoption of organic farming practices. Beyond Pesticides supports organic agriculture as effecting good land stewardship and a reduction in hazardous chemical exposures for workers on the farm. The pesticide reform movement, citing pesticide problems associated with chemical agriculture, from groundwater contamination and runoff to drift, views organic as the solution to a serious public health and environmental threat. To attract beneficial insects like monarchs and protect their habitats in your own backyard, there are several steps you can take. Like any other living organisms, pollinators need food, water, and shelter in order to thrive. For more information, see Managing Landscapes with Pollinators in Mind and Hedgerows for Biodiversity: Habitat is needed to protect pollinators, other beneficial organisms, and healthy ecosystems. You can also visit the BEE Protective Habitat Guide and Do-It-Yourself Biodiversity for more ways in which you can protect our pollinator friends.
With one in three bites of food reliant on bees and other insects for pollination, the decline of honey bees and other pollinators due to pesticides, and other man-made causes demands immediate action. For more on this and what you can do to protect pollinators, visit Beyond Pesticides' BEE Protective webpage.
Take Action:
1. Tell USDA that habitat is critical to protecting against species decline. Agriculture can protect bees, pollinators, and the delicate balance of ecosystems. But, only if we send a comment to the National Organic Program (NOP) to make sure that happens. See Sample Comments Here. >>Send your comment today! The deadline is TODAY, February 27, at midnight.
2. Let President Obama know you want action. Let's make sure @BarakObama and the @WhiteHouse #BeeKindObama, and take action to #SaveOurBees. Sign the petition HERE.
3. Join us in person to help us continue the fight to protect butterflies and other pollinators from neonicotinoids. This spring is Beyond Pesticides' 33rd National Pesticide Forum in Orlando, FL, April 17-18th 2015. Early bird registration is in effect until March 15, so make your plans to register today!
Sources: MPR News, www.beyondpesticides.org
Photo Source: Diane St. J, CT
All unattributed positions and opinions in this piece are those of Beyond Pesticides.