New report details the threats of coal ash dust for nearby communities and workers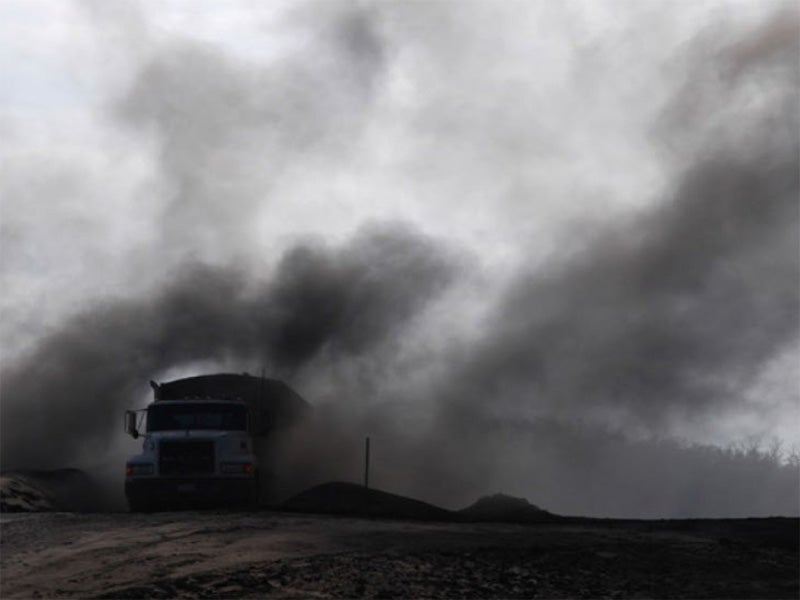 Toxic coal ash dust at the Making Money Having Fun Landfill in Bokoshe, OK.
Washington, D.C.–(ENEWSPF)–July 31, 2014. Breathing coal ash dust can trigger asthma attacks, lead to cancer and lung disease and other serious health problems according to a new report released today by Physicians for Social Responsibility and Earthjustice.
"Ash in Lungs: How Breathing Coal Ash is Hazardous to Your Health," details yet another danger of unregulated and unmonitored coal ash dumping. In February, a storm drain beneath a coal ash pond in North Carolina ruptured, sending 140,000 tons of coal ash into the Dan River. In 2008, a coal ash dam burst in Kingston, Tennessee, spewing more than 1 billion gallons of coal ash across 300 acres, damaging 40 homes and poisoning two rivers. At least 207 sites nationwide have had some coal ash polluting nearby lakes streams, rivers and drinking water supplies, including recent contamination in Florida and Kentucky.
But coal ash pollution is not limited to poisoning water. Coal ash dust is small particle pollution; the smaller the particle, the greater the risk. The very smallest particles are inhaled into the deepest part of the lungs where they trigger inflammation and immunological reactions, according to the report. Dust from coal ash landfills and uncovered trucks carrying coal ash blows into nearby communities, putting lives at risk.
"Breathing toxic coal ash dust can lead to disease and even death," said Dr. Alan Lockwood, co-author of the report and emeritus professor of neurology at the University of Buffalo and past president of Physicians for Social Responsibility. "This is a dangerous pollutant that not only damages the respiratory system, but even increases the rate of heart attacks and strokes."
Silica exposure via coal ash (which can lead to silicosis, a scarring of the lung tissue), exposure to radioactive materials present in coal ash dust and exposure to mercury and hydrogen sulfide are all possible when breathing coal ash dust. Workers at power plants and coal ash dumpsites are also exposed to these dangerous pollutants.
"Coal ash contaminating water supplies is well known," said Lisa Evans, senior administrative counsel at Earthjustice, and co-author of the report. "Our report details another danger of unregulated coal ash waste. Breathing dust can cause disease and drastically decrease the quality of life for communities along the fenceline of coal ash dump sites. We know coal ash is poisoning our water, and now we also know that it's poisoning our air as well."
Despite the threat, no federal requirements exist to control fugitive toxic dust. A survey of the top 37 coal ash generating states in the U.S. found that less than half of them mandate dust controls at coal ash landfills, and only a single state (Pennsylvania) requires dust controls at coal ash ponds. The report highlights six communities poisoned by coal ash dust.
Four million tons of coal ash from the 2008 TVA Kingston disaster in Tennessee was shipped to a landfill in Uniontown, Alabama, from 2009–2010. Nearby residents experience respiratory illnesses, nausea, headaches, dizziness and complain of coal ash dust blanketing their homes and cars.
At the Moapa River Indian Reservation, coal ash dust from Nevada Energy's Reid Gardner Power Station moves like a sandstorm across the dry desert into the heart of the reservation. Tribal leaders of the Moapa Band of Paiutes tell of health problems including burning skin, sore throats, hyperthyroidism, heart problems and asthma.
A screened fence along the Cane Run Generating Station coal ash dump in Louisville, Kentucky, can't keep the toxic dust from blowing off a five-story-tall mountain of coal ash onto a nearby community of 400 residents.
In Chesapeake, Virginia, a golf course was designed to dispose of 1.5 million tons of coal ash from Dominion Virginia Power. Construction of the course sent clouds of black dust onto workers and nearby homes. One worker said, "It was clear that a golf course wasn't being built. It was a coal ash dump."
A "volcano" of coal ash in La Belle, Pennsylvania, plagues nearby residents with blowing dust. The dump site may get even bigger as First Energy has proposed to send more than 3 million tons of additional coal ash to the site every year, beginning in 2016.
The Navajo Nation hosts the biggest power plant in the West—the Arizona Public Service (APS) Four Corners Power Plant in Fruitland, New Mexico. APS has dumped approximately 30 million tons of coal ash into ponds on the reservation that dry rapidly and blow across the reservation, 25 percent of which is still without electric power.
The authors write that despite the obvious health risks to communities living near coal ash dump sites, no federal regulation regarding the storage and disposal of this toxic waste exists. The EPA proposed coal ash regulations in 2010, but has not yet finalized the rule. Earthjustice, on behalf of Physicians for Social Responsibility, Appalachian Voices, Chesapeake Climate Action Network, Environmental Integrity Project, Kentuckians For The Commonwealth, Moapa Band of Paiutes, Montana Environmental Information Center, Prairie Rivers Network, Sierra Club, Southern Alliance for Clean Energy and Western north Carolina Alliance, sued the EPA in federal court for its failure to follow the law and propose coal ash regulations in a timely manner. As a result of that lawsuit, the EPA will finalize the nation's first federal coal ash regulations by December 19, 2014.
"Federal regulations for coal ash can't come soon enough," Evans said. "Whether it's a catastrophic spill, a slow poisoning of nearby waters or the dust blowing from these sites, coal ash contaminates our lives in too many ways. Nearby communities deserve safeguards that protect their health and the environment."
About Earthjustice
Earthjustice is the premier nonprofit environmental law organization. We wield the power of law and the strength of partnership to protect people's health, to preserve magnificent places and wildlife, to advance clean energy, and to combat climate change. We are here because the earth needs a good lawyer.
Source: http://earthjustice.org