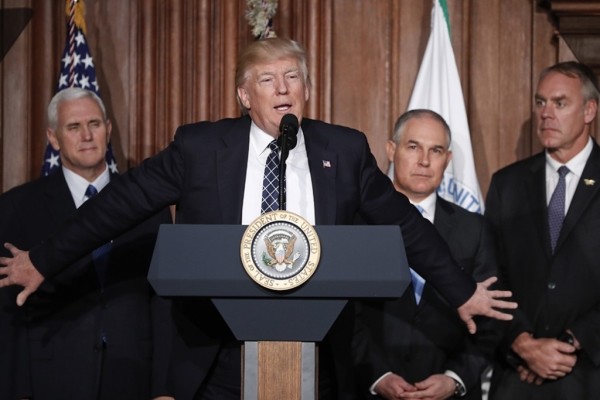 President Donald Trump, accompanied by, from left, Vice President Mike Pence, EPA Administrator Scott Pruitt, and Interior Secretary Ryan Zinke, speaks at EPA headquarters in Washington, March 28, 2017. AP/Pablo Martinez Monsivais
Washington, D.C. —(ENEWSPF)–April 21, 2017.  Despite having been in office for fewer than 100 days, and in the lead-up to the gathering of scientists across the country for the March for Science, President Donald Trump and his administration have proven to be the most hostile to environmental science in modern history. The Center for American Progress has released a column offering just seven of the many ways in which in a few short months, Trump and Environmental Protection Agency, or EPA, Administrator Scott Pruitt have undermined science at the federal level.
It is no mistake that President Trump has proposed slashing critical funding for science offices at the EPA and that known climate deniers are filling what few high-level EPA positions have actually been filled. Trump and his administration have declared war on science at the EPA.
"Make no mistake, science is under siege in the Trump administration," said Myriam Alexander-Kearns, Policy Analyst for CAP's Energy and Environment Policy team and co-author of the column. "Trump, Pruitt, and their lackeys in Congress have made it their mission to undermine and ignore sound climate science. Their proposed budget slashes research, they've left key science positions unfilled, and they are moving bills through Congress that will limit the scientific evidence the EPA is legally allowed to consider."
One way President Trump is undermining science at the EPA is by hiring climate science deniers for high-level positions, including the administrator himself. Those deniers have come heavily from the office of notorious climate denier Sen. Jim Inhofe (R-OK). The administration has opened budgetary fronts in the war on science by cutting the EPA's budget by more than 30 percent; eliminating funding for 56 programs; and slashing funding for the EPA's Science Advisory Board, which was created almost 40 years ago to review the quality of the science used by the EPA.
Perhaps most alarming is the recent rejection of a ban on chlorpyrifos, a dangerous agricultural pesticide, after years of urging by manufacturer Dow Chemical, which donated $1 million to President Trump's inauguration committee.
Click here to read the column.
Source: http://americanprogress.org
Related Article:
'This Is the Fight for Our Future': March for Science Rallies Planned Worldwide on Saturday, April 22