Washington, DC–(ENEWSPF)–August 11, 2014. Vermont Law School announced Friday that its campus is going neonicotinoid pesticide-free, making it the first higher-education campus in the country to earn official recognition from the BEE Protective Campaign, led by Beyond Pesticides and Center for Food Safety. The university joins an expanding list of communities across the country to take action to protect pollinators in the absence of federal regulation, including Eugene, OR, Spokane, WA, and most recently, Shorewood, Minnesota.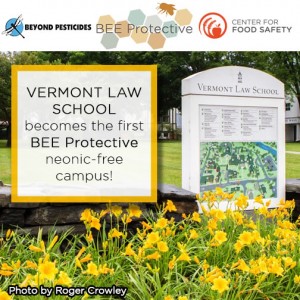 "We are very pleased that Vermont Law School has taken the lead on going neonic-free, and hope other universities and communities will follow suit," said Nichelle Harriott, Senior Staff Scientist at Beyond Pesticides.
Neonicotinoids are a class of insecticides that share a common mode of action that affect the central nervous system of insects, resulting in paralysis and death. These systemic pesticides, which move through the plant's vascular system and express themselves through pollen and nectar, include imidacloprid, acetamiprid, clothianidin, dinotefuran, nithiazine, thiacloprid and thiamethoxam. A growing body of science has implicated neonicotinoids, which are applied to or incorporated into seeds for agricultural, ornamental and garden plants, as a key factor in recent global bee die-offs. Beekeepers across the country reported losses of 40-90 percent of their bees last winter.
"Honey bees and other pollinators play a critical role in agricultural systems," said Laurie Ristino, director of the Center for Agriculture and Food Systems and VLS associate professor of law. "Protecting their health and safety is a reflection of Vermont Law School's commitment to the environment and CAFS' mission to support sustainable food and agricultural systems. We hope more will follow our lead."
"This is a historic day for pollinators," said Larissa Walker, Pollinator Campaign Director at Center for Food Safety. "For the first time, a major university is taking steps to provide a sanctuary for the bees. Pollinators are too important to wait for the situation to get worse. We applaud Vermont Law School and thank them for their leadership. We look forward to many more institutions joining the movement and pledging to go neonic-free."
BEE Protective in Your Community
One in every three bites of food we eat are reliant on bees, and pollinators contribute between $20-30 billion in agricultural production annually in the U.S. The decline of honey bees and other pollinators due to pesticides, and other man-made causes demands immediate action. Encourage your own community or campus to be pollinator-friendly and make changes that will protect your local pollinator population. Get the Model Community Pollinator Resolution in the hands of local elected officials or school administrators. For help with your campaign, contact Beyond Pesticides.
National Efforts to BEE Protective
As EPA continues to stall, Beyond Pesticides, along with other groups are working to BEE Protective. Last year, Beyond Pesticides, Center for Food Safety, and others filed a lawsuit against EPA on its continued registration of these chemicals. The groups are also working to pressure on lawmakers in Congress to take action to protect pollinators with the Saving America's Pollinator Act, H.R. 2692, introduced by Representatives John Conyers (D-MI) and Earl Blumenauer (D-OR), is gaining support in the House. The bill aims to suspend the use of neonicotinoid pesticides until a full review of the scientific evidence has been conducted that demonstrates no harmful impacts to pollinators. Get your Representative to support this bill!
BEE Protective is a national campaign established by Beyond Pesticides and Center for Food Safety, which serves as a national public education effort supporting local action aimed at protecting honey bees and other pollinators from pesticides and contaminated landscapes. BEE Protective includes a variety of resources to encourage municipalities, campuses, and homeowners to adopt policies that protect pollinators from bee-toxic pesticides. For more information on how to truly bee protective, join our campaign and take action at www.BeeProtective.org.
All unattributed positions and opinions in this piece are those of Beyond Pesticides
Source: http://www.beyondpesticides.org