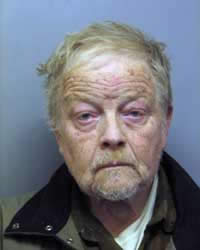 Park Forest, IL–(ENEWSPF)– A south suburban veterinarian accused of failing to report suspected dogfighting and lying about administering rabies vaccines has been arrested after a five-month undercover investigation, Cook County Sheriff Thomas J. Dart announced Friday.
Dr. Gary Friederich, 64, of the 13100 block of South 80th Court in Palos Park, was arrested Thursday at his residence. He is charged with six counts of violating the standards of the Illinois Veterinary Medicine and Surgery Practice Act. In addition to facing those criminal charges, the Illinois Department of Financial and Professional Regulation has suspended his veterinary license and his license to distribute controlled substances.
The Cook County Sheriff's Office Animal Crimes Unit began an investigation of Dr. Friederich in July, after receiving complaints about his Park Forest Animal Clinic, 2348 Western Ave., ranging from poor veterinary care to failure to report suspected dogfighting.
On multiple visits to see Dr. Friedrich, undercover investigators presented dogs to him that were in need of care, including rabies vaccines and treatment of injuries consistent with dogfighting.  Follow-up tests showed that while Dr. Friedrich charged a fee and provided a certificate of vaccination, no vaccines were in any of the dogs' systems, according to police.
When Dr. Friedrich learned a dog which was injured in a fight was coming into his clinic, he allegedly instructed the officer to enter the rear of the building so no one would see the dog or the extent of its injuries. In a room at the clinic, police say the officer then discussed the fight in detail with Dr. Friedrich, who allegedly assured the officer he would treat the dog for a number of days and return it to a condition so it could again be used in dogfights. When the officer returned for the dog as scheduled and asked for a rabies vaccine, Dr. Friedrich allegedly handed the officer a certificate, winked and asked for $55 for the "vaccination" and $145 for the stay, according to police. A follow-up check by another veterinarian showed that during those days, the dog contracted kennel cough and was infested with fleas after its stay in Friedrich's kennel, police say.
On another visit, the officer told Dr. Friedrich he needed painkillers and other narcotics for two pit bulls. Dr. Friedrich then allegedly provided the medications without seeing either dog, according to police.
The investigation found records showing Dr. Friedrich claimed to provide vaccinations to other dogs, but investigators tested those dogs and found no trace of the vaccination, according to police.
Dr. Friedrich's next court date is set for Jan. 31, 2011 in Markham.