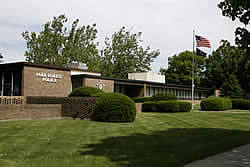 Park Forest, IL–(ENEWSPF)–Editor's Note: We continue our reporting on news from police reports. Besides covering the many stories from around Park Forest that otherwise might go unnoticed, we want to bring more complete coverage of police reports than is reported by other local media.
An arrest does not mean that a person is guilty. All those arrested are presumed innocent until proven guilty. It is the policy of eNews Park Forest to not remove items in the public record from publication. If your name is listed in the police reports, we will only add information relevant to the final disposition of the case at hand, e.g. "Mr. Smith was subsequently acquitted," "Mr. Smith entered a guilty plea," or "All charges against Mr. Smith were subsequently dropped." We will do so upon receiving and verifying proof of such disposition.
Persons wishing to leave anonymous information on any criminal matters including narcotics or gang activity are encouraged to call 708-748-1309 and leave a message on Detective Beilke's voice mail.
Police arrested Clifton A. Sims, 31, of the 0-100 block of Water Street and charged him with domestic battery on September 12.
An air conditioning unit was reported stolen from a residence in the 100 block of Hay Street on September 13.
Two patio chairs and a table were reported stolen September 13 in the 0-100 block of West Rocket Circle.
Otis Green, 21, of 230 Allegheny Street was arrested September 15 and charged with obstructing a peace officer.
A laptop was stolen during a reported burglary sometime between September 15 and 16 at a residence in the 300 block of Osage Street.
Police arrested Monique Howard-Rhodes, 33 of the 100 block of Hay Street on September 16 and charged her with domestic battery.
Police arrested Kevin A. Aljoe, 33, of the 3000 block of Western Ave. on September 16 and charged him with domestic battery and interfering with the reporting of domestic violence.
Javohn L. Williams, 38, of 255 Allegheny Street was arrested and charged with possession of cannabis on September 16 after police reportedly found two clear zip lock bags of marijuana in his pants pocket.
A UPS package was reported stolen from outside of a residence in the 400 block of Wildwood Drive on September 17.
The rear door of a vehicle was dented sometime on September 17 and 18 in the 400 block of Lakewood Blvd.
An unknown suspect reportedly damaged a PVC railing and screen door in the 2800 block of Western Ave. on September 18.