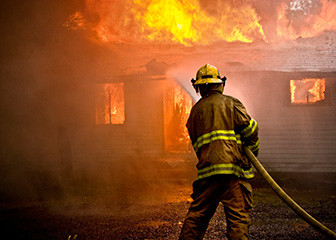 From the Park Forest Fire Department via Facebook
Park Forest, IL-(ENEWSPF)- The Park Forest Fire Department rescued a victim through a bedroom window at a University Park structure fire. There were 72 responses by the PFFD from June 4-10: fire/service numbered 16, EMS numbered 56.
Response Activity – University Park Rescue
Early Wednesday, June 7, members were dispatched to University Park on an automatic aid request for a structure fire. While responding units from Park Forest were informed there were reports of 3-people trapped in the building due to heavy smoke. Additionally, most of the University Park duty personnel were just departing the hospital due to an early morning full arrest.
When Park Forest units arrived on scene they found the University Park member applying water from a hose line to a kitchen fire and were directed to the second floor bedroom window towards one possible victim.
The members determined 2 of the 3 possible victims had already exited the house and the crew used a ladder to rescue the victim from the bedroom window. This victim and a police officer were transported to the hospital for evaluation related to smoke inhalation.
This type of rescue shows the value of automatic aid; especially when the department receiving aid is already actively involved in another response.
"Pats on the back go out to all those involved in this incident."
Training Activities
Monday, June 5 thru Thursday, June 8, career members completed hose testing as their training activity. This activity is completed annually per National Fire Protection Association regulations. Hose testing identifies damaged hose or conditions which require a hose be removed from service.
On Friday June 9, both the career division and POC division members completed ladder training. In these sessions, members reviewed and identify techniques used to remove both conscious and unconscious victims from a second floor using ground ladders.
Other Activities
The Park Forest Fire Department has just been named a "Built for Life Fire Department" by the Home Fire Sprinkler Coalition. This means the Park Forest FD is committed to increasing home fire sprinkler awareness among children and adults. This designation will also allow the fire department to partner with the Home Fire Sprinkler Coalition via a grant their organization received to garner new materials to assist in our efforts of spreading the word about home fire sprinklers.
"We are proud to be recognized for our efforts in the home fire sprinkler arena; fire sprinklers do more than any other fire protection technology can and they belong in places where people are at the greatest risk. In addition to protecting men, women and children who live in the home, fire sprinklers also protect firefighters."