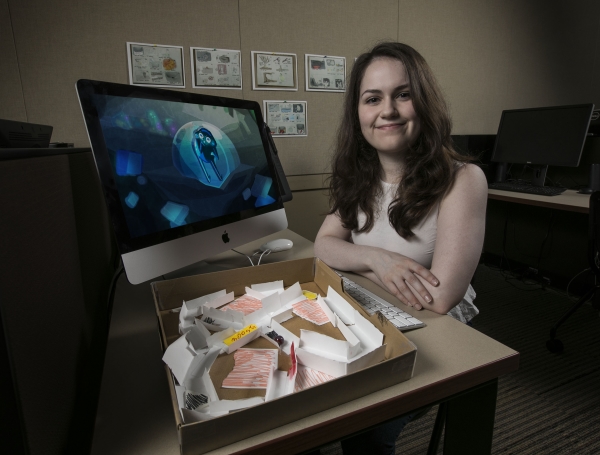 CHICAGO–(ENEWSPF)—June 1, 2018
Gracie Straznickas began playing video games as soon as she could hold a controller.
"I have distinct memories of playing 'Tetris' with my mom," the DePaul University senior said. "I also remember playing 'Pokémon Red,' even though I was probably about 3 at the time and had no idea what I was doing. Let's just say I never made it very far."
She then started playing games with her older sister — games like "Donkey Kong 64," "Mario 64," "Diddy Kong Racing," "Pokémon Stadium" and many others that Straznickas can rattle off as fast as a child saying the ABCs.
For Straznickas, video games were a welcome distraction from chronic musculoskeletal pain that's been a daily struggle since childhood. Now almost 18 years since first picking up a controller, she is a game designer who creates worlds that build empathy and awareness.
This June, Straznickas is set to graduate summa cum laude with a Bachelor of Science in computer game development and a minor in animation from DePaul's College of Computing and Digital Media. She will begin a doctoral program in human-centered design at DePaul this fall, where she will dive even further into her research of games about the human condition, often referred to as deep games.
Growing through pain
In her teenage years, Straznickas began to play more games on her own, feeling especially drawn to complex, story-oriented games like "Mass Effect," a science fiction action role-playing video game series that follows a soldier in her efforts to save the galaxy.
"'Mass Effect' really spoke to me in ways games never had before," said Straznickas. "It was so deep I was lying awake at night thinking about it. I still think about it and I have not played it in a while. It hit me deep in a way that I don't necessarily think it was trying to do."
Deep games create a certain feeling or use a metaphorical setup to represent an idea through gameplay and storytelling, explained Straznickas.
As a child, playing video games helped take her mind off the muscle cramps and cracking joints that she endured on a daily basis. Things like kickball, gym class and running caused immense pain, while swimming was a relief.
Once called "growing pains" by a childhood doctor, seven years of searching brought an answer of Ehlers Danlos Syndrome, a connective tissue disorder. One of the symptoms is "chronic, early onset, debilitating musculoskeletal pain," according to The Ehlers-Danlos Society. An intensive program at the Shirley Ryan AbilityLab, formerly The Rehabilitation Institute of Chicago, helped Straznickas with pain management.
"Games are really what helped me through the worst of my pain," said Straznickas. "They were more involved than cinema for me, as games allowed me to walk around and enjoy life, which was something I wasn't able to do during my pain crisis."
Life at DePaul
Growing up in suburban Wilmette, Illinois, about 15 miles north of DePaul's Loop Campus, Straznickas was drawn to the university's game design program. She was interested in the plans and motives that went into building a game, and she already knew the potential for games to have the same effect on a player as a really good movie or book.
"My medical experiences in high school made me reflect on what I wanted to do in life," she said. "I started to think about how I've always loved video games and wondered if there was something that I could do with them. It really excited me that there was a university putting effort into game design. The design element really brought me to DePaul."
During her time on campus, Straznickas has worked closely with Doris Rusch, an associate professor of game design and leader in developing video games that boost empathy, understanding and self-awareness of diseases and mental illnesses. Rusch is the creative director of the Deep Games Lab at DePaul, where students use discussion, theory and paper models to sketch out the concepts of their games.
"Gracie has a knack for finding symbols and metaphors within an inner issue that gives rise to game play that's insightful, and she has a level of maturity and intellectual curiosity that's rare," said Rusch.
The first game in which Straznickas assisted Rusch was "Quilko's Song," a single-player mobile game intended to raise awareness about the characteristics and benefits of a growth mindset — the concept that success and talent can be cultivated. Straznickas helped with the early concept art for the game, wrote and edited much of the story and conversations, and served as the project's producer.
"Many people, especially teens, get the idea in their head that if they're not immediately good at something, they'll never be good at it," Straznickas said. "The game sets out to help players become willing to try new things and develop their skills."
For Straznickas, working with Rusch has confirmed that game design was the right choice for her.
"Working with Doris has felt very real. It took me out of the school mindset and into a mindset where I focused on what I wanted to do in life, which I think is really special," said Straznickas. "For the first time, it wasn't about getting a good grade. The classes really spoke to me."
Next chapter
The human-centered design doctoral program explores how technology and design can be used to make people's lives better, says Rusch, who will continue to serve as Straznickas' advisor. Straznickas hopes to one day become a professor herself.
"Once I started at DePaul I felt I was really ready for whatever life had to throw at me, and so far that feeling hasn't changed," said Straznickas. "While chronic pain may appear as simply a burden, I've learned to work with it to better myself and my own career. I try to learn what I can from my own struggles and incorporate that in my work."
Straznickas plans to create a video game that will tell her story of dealing with chronic pain, with the hope that it can help people understand what a loved one with chronic pain might be experiencing. She also wants to help people with chronic pain understand that they aren't alone.
"Games have a magic to them that we haven't fully grasped and definitely haven't fully explored, said Straznickas. "What better way to dive in than to make games that create a positive change in someone's life."
Source: www.depaul.edu