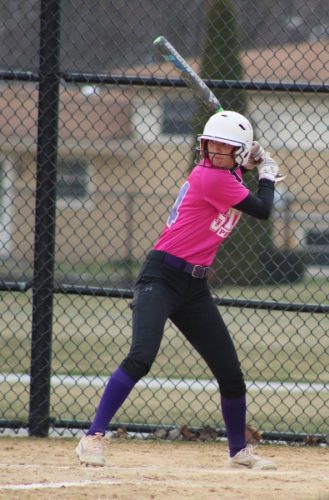 CHICAGO HEIGHTS, Ill. —(ENEWSPF)—May 7, 2018
Contact: Andrea Small, manager, public relations
No matter how successful of a regular season that a team may have, postseason play is always a completely different animal.
One bad afternoon and it could all be over.
The Prairie State College softball team knew this full-well and certainly didn't disappoint, making quick work of Lake County and climbing the first rung of the ladder on the quest to claiming the program's first-ever NJCAA Region IV championship.
The top-seeded Pioneers, who also entered the week as the nation's 20th-ranked team, dispatched Lake County 9-1, and 11-1 in a best-of-three quarterfinal series Wednesday at the Pioneer Sports and Recreation Park.
The victory pushes the Pioneers into the tournament's semifinal round Saturday against a yet-to-be-determined opponent at Highland Community College in Freeport.
In addition to moving on in the playoffs, Wednesday's victory also elevated PSC (40-7) to its first 40-win season in program history.
The two wins also capped off an incredible home campaign as the Pioneers finished the season with a 20-2 mark on their own diamond.
Both contests were five-inning affairs.
Six Pioneers recorded multiple-hit efforts in Game 1 as sophomore shortstop Sidney Hero (Griffith H.S., Ind.), sophomore center fielder Hayley Fletcher (Marist H.S.) and sophomore third baseman Sydney Harrison (T.F. South H.S.) all went 2-for-4 with a run. Fletcher and Harrison also both drove in a run.
Hero, a First-Team All-Region IV selection and All-American nominee, currently has her name plastered across the national leader boards. PSC's offensive catalyst leads the country with 93 hits. She is also second in stolen bases (67), fourth in triples (9) and seventh in batting average (.531).
An 0-for-2 showing for Hero in Game 2 also snapped an 18-game hitting streak. She has hit safely in 43 of PSC's 47 games thus far.
Freshman catcher Juanita Carrera (Rich South H.S.) also went 2-for-4 with three runs and an RBI while freshman second baseman McKenna VanDommelen (Bloom Trail H.S.) also went 2-for-4 with a pair of RBI.
In the circle, PSC picked up another outstanding effort from sophomore pitcher Sarah Kessler (T.F. South H.S.). Kessler, also an All-American nominee, pushed her record to 22-3 with the Game 1 win, allowing one unearned run on one hit while walking two and striking out four.
Kessler's 22 wins rank fifth on the NJCAA rankings and her 19 complete-games are ninth.
Game 2 saw Harrison deliver a 1-for-2, three-RBI, two-run outing.
Harrison has now driven in 70 runs on the campaign, good for second in the nation. She resides in the top slot of the leaderboard in that category amongst all Region IV hitters as well.
Kessler delivered with her bat in the nightcap as well, going 3-for-3 with an RBI and a run.
Freshman starting pitcher Karly Kos (Hillcrest H.S.) also aided her own cause, going 3-for-3 with a run and RBI.
Koss was also up to the task from the circle, working all five frames en route to her 15th win of the season. She allowed just four scattered hits while walking none and punching out five. She didn't allow a hit until the fourth and at one point covering the second and third frames, fanned four consecutive hitters.
Freshman right fielder Salem Garza (Beecher H.S.), (2-for-2, 2 runs, 2 RBI) and freshman second baseman Makaela Ruske (Bloom Trail H.S.) also went 2-for-3.
Source: www.prairiestate.edu