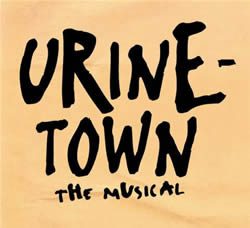 Park Forest, IL—(ENEWSPF)— In 1999, a little show with the unlikely title of "URINETOWN – the Musical" made its debut as part of the New York International Fringe Festival, where avant-garde works with strange titles are the norm. Two years later, it was the toast of Broadway, winning two Tony Awards for its authors, Gret Kotis and Mark Hollman. Now the Illinois Theatre Center of Park Forest will present "URINETOWN" as its Summerfest musical production, running two weekends starting Friday, June 20th.
"URINETOWN – the Musical"is both a biting social satire and loving parody of traditional musical comedy. The story is set sometime in the not-so-distant future – during a 20-year drought that has made water worth its weight in gold. To control this precious resource, the use of private toilets has been outlawed, and the public is forced to patronize pay toilets operated by the "Urine Good Company", under the direction of the corrupt Caldwell B. Cladwell. Eventually, young Bobby Strong organizes the poor to rise up in revolt against the UGC. Things get even more complicated when Bobby falls in love with Cladwell's beautiful daughter Hope.
"URINETOWN – the Musical" pokes fun at every musical comedy convention in the book, and particularly all those musicals about oppressed masses fighting against the authorities – from FIDDLER ON THE ROOF and WEST SIDE STORY to LES MISERABLES. There are lively songs and dances, colorful characters, and plenty of slapstick comedy. And despite the title, the show is suitable for the whole family – no sex, no profanity, just good clean fun.
Making their ITC debuts in leading roles are David Besky as Officer Lockstock, who narrates the show, and Brad Lancy as the hero, Bobby Strong. They are joined by Summerfest veterans Al Becker as the villainous Cladwell B. Cladwell, Cara Scott as his daughter Hope, Dawn DeVries as Penelope Pennywise and Kara Worthman as Little Sally.
The ensemble, playing a wide range of odd characters, includes Chris Wayne, Fred Berg, Randy Larson, Ken Wayne, Sara Podwol, Adam Molloy, Madalyn Mattsey, Tyler Sonkin, Therese Boyich, Patrick Murray, Scott Means, Jaime Patriarca, Andy Leahy, Marissa Backlin, Lindsay Hope, Stephanie Ernst, and Olivia Mattsey. The production is directed by David Boettcher, with musical direction by Jonathan Billig and choreography by Frank Roberts.
"URINETOWN – the Musical" runs Friday, July 20 thru Sunday, July 29. Performances are Fridays and Saturdays at 8 PM, Sundays at 2:30 & 7:30 PM. NOTE: The June 21 performance is sold out. Tickets are $15 for adults, $14 for students and seniors (65+). The Illinois Theatre Center is located in downtown park Forest at 371 Artists Walk (off Indianwood Blvd. between Orchard Drive & Western Ave.) For tickets, call (708) 481-3510.
Source: Illinois Theater Center Press Release