CRETE—(ENEWSPF)—June 1, 2018
The Crete Public Library's annual Summer Reading Program for children, teens, and adults takes place June 1-July 28, 2018. The program encourages everyone to read for pleasure throughout the summer months. Prizes are awarded as extra incentives to read and use library materials.
To join in the fun, sign up online on the library's website (www.cretelibrary.org) or by stopping in at the library (1177 Main St.), beginning June 1. Children's weekly summer learning logs are available in the Youth Services Department only. There is no log for adults and teens to complete this year. The first check-in begins June 11. To check-in throughout the program, simply visit the library each week to record your progress to qualify for the weekly prize drawing. The final day to check-in is July 28. Incentive prizes for summer reading are made possible through the generosity of local businesses and Chicago area organizations.
The 2018 program's theme is Reading Takes You Everywhere. The Crete Public Library has expressed this by transforming various areas into travel departure points. The Patron Services Department has become an airport, the Adult Services Department a cruise ship with the Teen Space as a tropical island, and the Youth Services Desk a safari jeep to take you around the world. Whimsical touches of imaginative décor can be found throughout the building.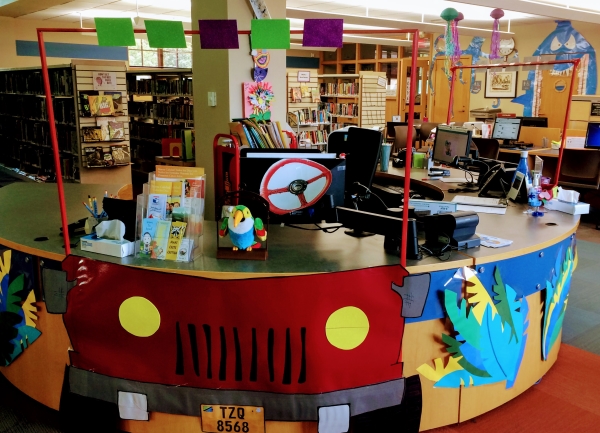 In keeping with the summer reading theme, humorous and entertaining travel photographer John Lynn will share his experiences hiking, biking, and canoeing 4,000 miles across fifteen states from Delaware to Oregon at the library on July 18 at 7 p.m. Registration for this free program "America Coast to Coast" is open now.
The Friends of the Crete Public Library are sponsoring a raffle prize basket for program participants in three categories: adult, teen, and children. Library patrons receive a free raffle ticket each time they check out materials from the library (limited to one ticket per card per visit per day).
For further information about the Summer Reading Program, contact Crete Public Library at (708) 672-8017.
Source: www.cretelibrary.org