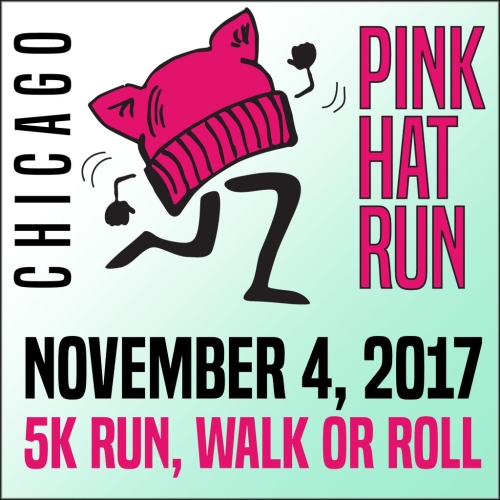 CHICAGO—(ENEWSPF)—September 22, 2017. The first annual Pink Hat Run will take place in Chicago Saturday, Nov. 4, 2017 in Chicago's South Loop.
The 5K/1 mile run, walk or roll will take place along Chicago's beautiful lakefront and museum campus downtown, with a starting point on Prairie Avenue in the South Loop neighborhood, next to the Women's Park & Gardens.
The Pink Hat Run will benefit organizations that provide services, advocacy and support to women and girls, and are central to improving the lives of Chicago communities.
Pink Hat Run Chicago's 2017 beneficiaries include Access Living, Chicago Foundation for Women (CFW), Chicago Women Take Action (CWTA), Fierce Over 40, Mujeras Latinas en Acción, Chicago National Organization for Women, Personal PAC, Planned Parenthood of Illinois, A Sister's Hope, Women's March on Chicago and YWCA Metropolitan Chicago.
The Pink Hat Run brings together women, allies and families, "pink hatters," to participate in a day of community and wellness.  Participants will enjoy a morning of fun, conviviality and sisterhood while raising funds for these worthy organizations. The registration fee includes a t-shirt and pink hat. This is a pledge drive event, with each organization fielding teams of participants to raise funds for their agency.
2017 has seen some incredibly creative and wonderful "pink hatters" at everything from the Women's March on Chicago to the Science March, Tax March, DACA and healthcare rallies and beyond. Organizers intend to bring that energy into the Pink Hat Run.
Pink Hat Run is organized by veteran activists Jennifer Lee, Cathy Seabaugh, Tracy Baim and Leni Manaa-Hoppenworth.
For additional details about the Pink Hat Run, or to register, visit:
Website: pinkhatrun.com
Facebook: https://www.facebook.com/pinkhatrun
Twitter: https://twitter.com/pinkhatrun
Instagram: https://www.instagram.com/pinkhatrun/
Source: www.pinkhatrun.com