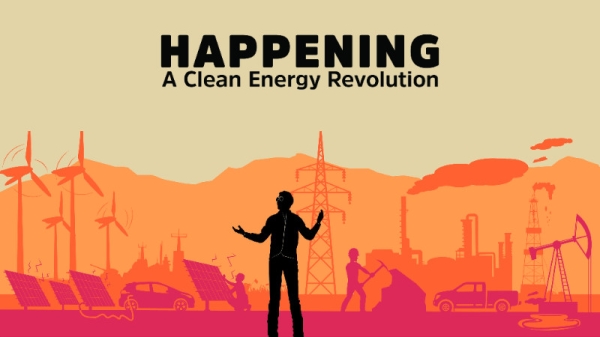 CHICAGO—(ENEWSPF)—April 5, 2018
By: Rosemary Piser
The City of Chicago and One Earth Film Festival will host free screenings of 'Happening: A Clean Energy Revolution' in the city's colleges, monuments and parks during the weekend of Earth Day, from April 19 to 22. Trailer below.
Film Overview: When the issue of renewable energy comes up, it's common to think, "that's a future thing. It's like sci-fi." Well, this film is here to tell you, the clean energy revolution is happening right now. Director James Redford, an award-winning filmmaker . . . and, yes, Hollywood legend Robert Redford's son . . . takes us on his personal journey into the dawn of the clean energy era as it creates jobs, turns profits, and makes communities stronger and healthier. "Reaching well beyond a story of technology and innovation, Happening explores issues of human resilience, social justice, embracing the future, and finding hope for our survival," says Redford.
A listing of the locations of the 5 screenings where you can reserve your seat can be found here
Doors will open 30 minutes before the start of the film for refreshments, registration, and best seating.
For additional information, visit: https://www.oneearthfilmfest.org/earth-day-2018/
Source: www.oneearthfilmfest.org
Related Article:
Park Forest Environment Commission Announces Earth Week 2018 Events