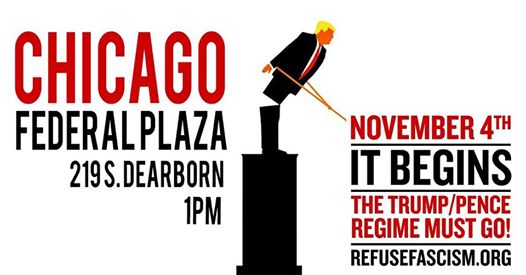 CHICAGO—(ENEWSPF)—October 26, 2017
By: RefuseFascism
We will gather in the streets and public squares of cities and towns across this country, at first many thousands declaring that this whole regime is illegitimate and that we will not stop until our single demand is met: This Nightmare Must End: the Trump/Pence Regime Must Go!
Our protest must grow day after day and night after night—thousands becoming hundreds of thousands, and then millions—determined to act to put a stop to the grave danger that the Trump/Pence Regime poses to the world by demanding that this whole regime be removed from power…
The Chicago protest will take place on Saturday, November 4 at 1 p.m. CDT at the Federal Plaza, 219 S. Dearborn, Chicago, IL.
Information about other national protests can be found here.
Source: www.refusefascism.org
Related Article:
Nov. 4 National Protests Are Under Attack by the Alt-Right, Lies, Threats of Violence, Denial of Permits