Washington, DC –(ENEWSPF)—November 16, 2017
By: James Lewis

Yesterday, Congresswoman Kelly took to Twitter to share the concerns on her constituents about the GOP's so-called 'tax reform' plan.
"Constituents from around the district have been calling my office to say, 'vote no.' I think families truly understand that this bill will raise their taxes and they are pushing back against the GOP's agenda," said Congresswoman Kelly. "In particular, I'm hearing a lot about double taxation and eliminating the mortgage, student loan and medical expense deductions – all key middle class tax breaks that help families bring him bigger paychecks."
Using #TaxTalk, the Congresswoman highlighted calls from six constituents, including ones from Chicago, Homewood, Park Forest and Richton Park.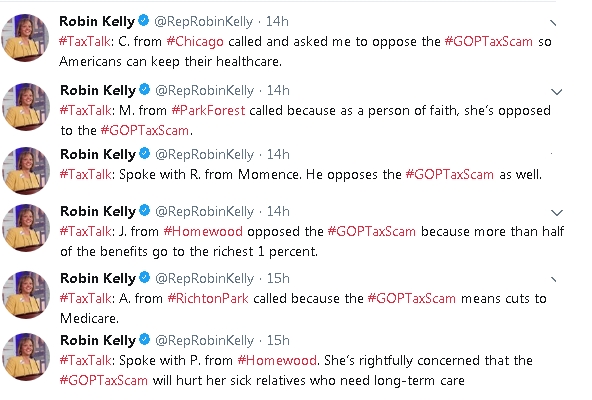 In the lead up to the vote, Congresswoman Kelly plans to share more constituent phone calls and emails on the disastrous GOP tax plan that will raise taxes on 36 million middle class households.
"I'd like to thank the hundreds of constituents who've called or emailed about the tax bill. It's critical that I hear from you and your family about the issues affecting you," added Congresswoman Kelly. "My phone line and inbox are always open to constituents who want to share their concerns."
Source: www.robinkelly.house.gov
Related Article:
Remember When Republicans Warned Us About Those Death Panels?