After years of organizing and a lawsuit later, the 67-year-old Chicagoland immigrant grandmother fights and wins deferred action, stopping her deportation from the U.S.
CHICAGO—(ENEWSPF)—October 31, 2017
By:  Reyna Wences [email protected]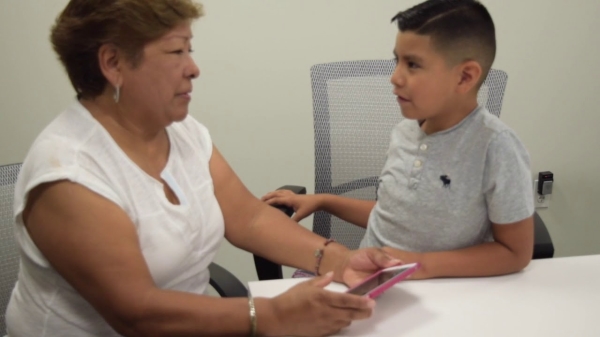 Genoveva Ramirez is a 67-year-old grandmother, originally from Mexico, who has lived in the United States for nearly two decades. She filed a U-visa application in September 2016 after she and her grandson were physically assaulted during a home invasion and she subsequently assisted in the police investigation. The U-visa is a form of immigration protection available to victims and witnesses of certain crimes who then cooperate in the investigation or prosecution.
On October 10, Ms. Ramirez had her first court hearing stemming from a lawsuit against the Department of Homeland Security demanding the review of her U-visa application before her scheduled deportation by the Chicago ICE Field office at the end of the month. Facing the prospect of a federal court order, the government announced at the hearing that USCIS would make a preliminary determination that she is eligible for a U-visa so that ICE may stay Ms. Ramirez's deportation. On October 24, USCIS notified Ms. Ramirez and her legal counsel that she had been granted Deferred Action and her U-visa application had been placed on the waiting list, thus stopping her imminent deportation.
Ms. Ramirez's case is a true testament to the power of organizing coupled with litigation strategies to fight against the separation of families and deportation of our community members. Like Genoveva Ramirez, Felipe Diosdado is in the middle of fighting his deportation to stay in the country with his U.S. citizen children. Mr. Diosdado was placed in deportation proceedings in 2014 after he went to the Illinois Drivers and Motor Vehicle office to apply for a Temporary Driver's License and instead found ICE agents waiting for him. Mr. Diosdado and Ms. Ramirez have been at the forefront of the fight against deportations in Chicago and both continue to demonstrate their commitment to fight for their families and the rest of the immigrant community.
Genoveva Ramirez, her family and supporters, Felipe Diosdado, members of Organized Communities Against Deportations, PASO-West Suburban Action Project, National Immigrant Justice Center,  Service Employee International Union: Local 1, and other community groups will rally on Thursday, November 2 at 1:00 p.m. at the Plaza of the Americas, Hubbard Street Pedestrian Overpass in Chicago.
###
Organized Communities Against Deportations (OCAD) is an undocumented-led group that organizes against the deportation and criminalization of Black, Brown and immigrant communities in Chicago and surrounding areas.
The West Suburban Action Project (PASO) is a grassroots, community-based social justice organization  that builds strong communities through intersectional organizing, leadership development, education and civic engagement so people can live and thrive, regardless of race, immigration status, gender, sexual orientation or socioeconomic level.
The National Immigrant Justice Center (NIJC) is a nongovernmental organization dedicated to ensuring human rights protections and access to justice for all immigrants, refugees, and asylum seekers through a unique combination of direct services, policy reform, impact litigation and public education. Visit immigrantjustice.org and follow @NIJC.
Service Employees International Union Local 1 unites 50,000 workers throughout the Midwest including janitors, security officers, higher education faculty, food service workers, and others. Local 1 is committed to improving the lives of its members and all working people by winning real economic justice and standing at the forefront of the fight for immigrant, racial, and environmental justice.
Source: www.organizedcommunities.org