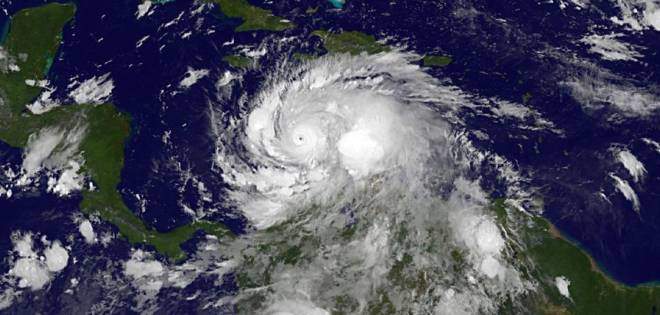 Category 4 Hurricane Matthew (Source: NOAA.gov)
Hurricanes wreaked havoc through the Caribbean in 2016
Washington, DC–(ENEWSPF)–March 27, 2017.  You've heard the last of Matthew and Otto – at least as Atlantic storm names.
These two storms ravaged the Caribbean so much last year their names have been retired by the World Meteorological Organization's Region IV Hurricane Committee, of which NOAA's National Hurricane Center is a member.
Matthew and Otto are the 81st and 82nd names to be removed from the Atlantic list. Storm names are retired if they were so deadly or destructive that the future use of the name would be insensitive.
Matthew became a category 5 storm on the Saffir-Simpson scale on the night of Sept. 30, over the central Caribbean Sea at the lowest latitude ever recorded in the Atlantic Basin. It made landfall along the coast of southwestern Haiti, extreme eastern Cuba, western Grand Bahama Island and central South Carolina. Matthew was responsible for 585 direct deaths, with more than 500 deaths occurring in Haiti, making it the deadliest Atlantic hurricane since Hurricane Stan in 2005.
Otto was a late-season tropical cyclone, cutting a swath through the southwestern Caribbean Sea beginning on Nov. 20. It intensified rapidly to a category 3 hurricane before making landfall in southern Nicaragua. It crossed from the Atlantic and into the eastern Pacific Ocean, rare for a tropical cyclone, when it moved across southern Nicaragua and northern Costa Rica and emerged over the far eastern North Pacific as a tropical storm. Heavy rainfall and flooding from the hurricane caused 18 fatalities in Central America.
The WMO will replace Matthew with Martin and Otto with Owen when the 2016 lists are used again in 2022.
NOAA's National Hurricane Center is responsible for issuing tropical cyclone forecasts and warnings for both the Atlantic and eastern North Pacific basins, and storm names in those areas are reused on a six-year cycle.
On the Web: History of naming tropical cyclones
Source; http://noaa.gov