Commentary
By Gary Kopycinski
"Youth is wasted on the young." – George Bernard Shaw
That's what Mr. O'Neill used to tell us in grade school. It was one of his favorite sayings. We're told the quote originated with George Bernard Shaw, but, as far as I'm concerned, Mr. O'Neill said it first.
I thought of that quote today when I heard the sad news of the passing of Walter Cronkite at age 92, and the day I met him in college.
According to the University of Notre Dame's Web site, the date was October 3, 1982. I was in my sophomore year in college, playing tuba in the Notre Dame Band. The band was asked to play for the dedication of a new building, Stepan Chemistry Hall. I volunteered to play. I had heard that Walter Cronkite was going to be there, and I wanted to meet him. He would be receiving an Honorary Degree, along with Dr. D. Allan Bromley, Don Fuqua, John W. Hanley, Stuart A. Rice, and John B. Slaughter. The ceremony was held in the auditorium of the Hesburgh "Touchdown Jesus" Library, although I'm not sure if the building had been dedicated to Fr. Ted at the time.
At any rate, we dressed up, and sat in front of the stage off to the right. The day had a bit of a chill to it, but the weather wasn't too bad. I don't remember much about the ceremony, except I noted the over-sized honorary degrees. The honorees did not speak. The donors for the new building were honored. I spent much of the ceremony making sure I had the right music on the stand in front of me.
I did think to bring my autograph book. If at all possible, I wanted to shake Cronkite's hand. I grew up a news junkie, and, like many, learned of so many powerful moments in American and world history from that man sitting on the stage.
So, after the ceremony, I quickly packed my tuba, grabbed my autograph book, and ran out into the foyer of the library. Mr. Cronkite was talking to our band directors. I was surprised to find he was a bit shorter than I was. He seemed so tall on television, larger than life, even in black and white. I nervously introduced myself and asked him for his autograph, and he kindly complied.
Then the broadcast legend asked me one question, "Gary, are you interested in becoming a journalist?"
"No," I replied, "I'm studying Theology." At least that's what I recall stammering out. I'm sure I was shaking as I stood there.
Walter Cronkite smiled. He was very courteous. I thanked him, and after a few more awkward mumblings on my part, we turned in different directions, and that was it.
So, I sit here, some twenty-six years later, very sad to learn that Mr. Cronkite has died. I'm actually looking forward to watching the reports that will come in the next few days paying tribute to the man's incredible talent. I saw some tonight already. I'm looking forward to the tributes to "the most trusted man in America."
I've relived my brief encounter with Mr Cronkite many times since that chilly October afternoon. Who knows what might have happened if I had said, "Yes! I am interested in journalism." Or, "Absolutely, Mr. Cronkite. May I have one of your cards?"
I've thought about that moment and laughed many times since, especially through the genesis and growth of eNews Park Forest. Things turned out pretty good. Still, it's fun to wonder.
But, if I could go back and catch that young tuba player in the auditorium before he spoke with Walter Cronkite, what would I suggest he say? How could I convince him to be more assertive?
Most likely, I would not say anything at all. Instead, I'd be standing there with my younger self in the foyer of the Hesburgh Library, speechless and tongue-tied all over again, while Walter Cronkite stands there smiling.
And that's the way it is.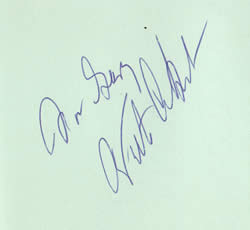 "To Gary, Walter Cronkite," October 3, 1982. (Gary Kopycinski)