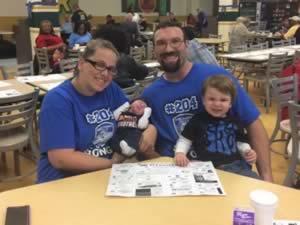 Overall totals revised April 5, 10:00 a.m.
Park Forest, IL-(ENEWSPF)- With all precincts in Cook and Will Counties reporting, Jonathan Vanderbilt, Theresa Settles, and Robert McCray were elected Park Forest Village Trustees. Settles and McCray are incumbents. Vanderbilt will join them serving his first term as Village Trustee.
Results will not be certified for two weeks while provisional votes and absentee votes are verified and tallied by the respective clerks for each county, but it seems unlikely that the results will change during that time given the margin of victory for the top three vote-getters.
Jon Vanderbilt received the most votes, with 864 total in the unofficial total from each county. Theresa Settles came in second with 861 votes, and Robert McCray finished third with 825 votes.
Finishing fourth, with 777 votes, was first-term incumbent JeRome Brown. Challengers David T. Jones and Marvin Holman each received 465 and 410 votes respectively.
This was Jon Vanderbilt's fourth attempt to win a seat on the Village Board. In this election, he catapulted to first place.
Jon Vanderbilt told eNews Park Forest, "I feel blessed. It was a community effort. It was all about the community effort. We couldn't be here without the citizens of Park Forest."
"I feel ecstatic and humbled, and to all the residents of Park Forest, a big 'Thank you' for supporting me," Trustee Theresa Settles said.
"I am happy that the voters in the Village of Park Forest, the majority who did vote for me, came out to vote today," Trustee Robert McCray said. " And I hope to thank them more in the days and months ahead. I would like the Village of Park Forest to continue promoting and involving young people of the Village to participate so we can provide an incubator for future leaders."
The date for the swearing-in of the re-elected and newly-elected trustees will be announced by the Village of Park Forest, and will take place after results have been certified.
Helm, Woods, Merchant Win Library Board Seats
Unofficial results show Beverly K. Helm, Joseph Woods, and Sevena Merchant capturing the top three spots in the Library Board election. Helm garnered 1,033 votes, Woods finished second with 861 votes, and Sevena Merchant finished with 762 votes. Challengers Lance L. Jefferson and Keith Supler earned 718 and 410 votes respectively.
Unofficial results follow and will be dynamically updated over the next two weeks as the clerks from Will and Cook Counties update their totals.
First update, April 5, 10:00 a.m., sees some changes in Cook County totals, where Jon Vanderbilt and Theresa Settles exchange the lead: