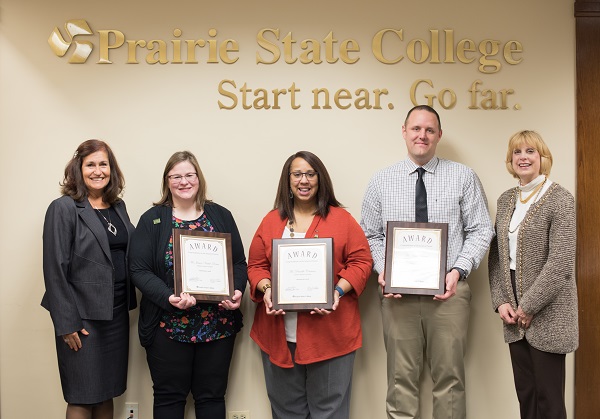 CHICAGO HEIGHTS—(ENEWSPF)—March 9, 2018. Prairie State College (PSC) announced at a recent Board of Trustees meeting that three faculty members had met the college's expectations for tenure, including commitment to student success, collaboration with their peers and dedication to the college's mission and core values.
Receiving tenure, effective August 2018, are Danielle Coleman, assistant professor of nursing; Dr. Jessica Nastal-Dema, assistant professor of English; and Chad Vlietstra, assistant professor of heating, ventilation and air conditioning.
Coleman joined the PSC full-time faculty in 2015, and has been an adjunct instructor and clinical instructor in the nursing at PSC since 2012. Before joining the PSC faculty full time, she had been a full-time nursing faculty member at South Suburban College. She also has taught nursing courses Olivet Nazarene University.  Prior to starting a career in academia, Coleman served as a clinical nurse for Advocate Christ Medical Center in Oak Lawn, and then as a clinical nurse with Advocate Home Health Services in Hazel Crest. She then worked as a registered nurse for Ingalls Memorial Hospital in Harvey. Coleman has an A.A.S. degree in nursing from PSC and a B.S. and M.S in nursing from Governors State University.
Nastal-Dema joined the full-time faculty at PSC in 2015. Prior to coming to PSC, Nastal-Dema had been an assistant professor in Georgia Southern University's Department of Writing and Linguistics. She started her career in education as a teaching assistant in the Saint Louis University Madrid Campus' Department of English. She also served as a lecturer, teaching assistant and then coordinator of basic writing with the University of Wisconsin-Milwaukee's Department of English. Nastal-Dema has a B.A. in English from Loyal University Chicago, an M.A. in English literacy and cultural studies from Universidad Autónoma de Madrid, an M.A. in English from Saint Louis University, and a Ph.D. in English: Rhetoric and Composition from the University of Wisconsin-Milwaukee.
Vlietstra joined the full-time faculty at PSC in 2015. He came to PSC teaching as an adjunct professor in the HVAC program since 2013, and the Fire Science Program since 2010. Prior to coming to PSC, had owned and operated Prime Choice Mechanical, Inc., an HVAC/R service provider. Vlietstra also had worked as an HVAC/R technician with Joseph & Sons Mechanical in Frankfort, and as a firefighter/EMT for Troy Fire Protection District in New Lenox. Vlietstra has an A.A.S degree from PSC and a B.S. degree from Waldorf College. He holds certificates in HVAC/R from PSC, and many certificates in fire science from the Illinois State Fire Marshal, including Fire Service Instructor I and II, Roper Operation, Fire Fighter III and Fire Department Safety Officer.
Vice President of Academic Affairs and Dean of Faculty Dr. Marie Hansel says Coleman, Nastal-Dema and Vlietstra were selected from a highly qualified pool of candidates during the hiring process, and were mentored and tested to fitness by the tenure process, which includes review by a peer committee of tenured faculty, student evaluations and deans' reviews, and classroom observation. Prior to being awarded tenure, the faculty candidates also prepare an extensive teaching portfolio.
"PSC only tenures outstanding and exceptional faculty members because of our tenure process," Hansel said.  "Among community colleges, the PSC tenure process is gold standard. I am very proud of the achievement of tenure by these faculty members," she added.
PSC President Dr. Terri L. Winfree said, "We are truly fortunate to have such a great group of faculty join the tenure ranks at Prairie State College. I am impressed with the high level of professionalism and expertise that this group brings to the classroom. Our students benefit by learning from these highly esteemed professors."
Source: www.prairiestate.edu