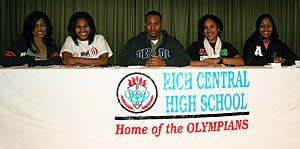 From L to R: Arielle Smith, University of Illinois-Champaign; Jackie Guider, University of Illinois-Chicago; Aaron Sandifer, Southern Illinois University-Carbondale; Ariel Julian, University of Illinois-Champaign, and Victoria Hannett, University of Tennessee. (PHOTO SUPPLIED)
Olympia Fields, IL-(ENEWSPF)- Spearheaded by former Rich Central student body president, Arielle Smith, a group of Rich Central alumni recently returned to their alma mater to give current students a first-hand account of college life. A five-member alumni panel answered questions and provided an overview of college life to current students on Friday in the Little Theatre at Rich Central High School. Students were allowed to fill out anonymous cards which were answered randomly by the panel.
"I was really interested in giving our students a first-hand perspective of college life. I wanted to provide a venue for students to ask questions and get the answers that they need to make the best decisions about college," said Smith, moderator of the panel and junior at the University of Illinois in Champaign. "I was very involved in my high school and now, as a college student, I see how important it is to be college-minded long before you get here." Smith came up with the idea following the 2ndAnnual Alumni Summit last year. "I wanted to create pathways of connection between current students and recent alumni; to create support systems and mentors to help our students to succeed while they are in high school and when they get to college. Keeping it Real does just that."
Current Rich Central students asked about selecting classes, college schedules, getting around campus, life in the dormitories, selecting a college major, the grading system, balancing class and activities, and much more. "I'd like to make this an annual event where we continue to give back to our current students," added Smith.
Smith is currently a double-major in Political Science and African-American studies with plans to go to law school at Chicago-Kent after graduation.
The full panel included (featured from l to r in photo):
Arielle Smith
College: University of Illinois-Champaign
Rich Central, Class of 2008
Double Major: Political Science/African-American Studies
Jackie Guider
College: University of Illinois-Chicago
Rich Central, Class of 2008
Major: Communications/Mass Media
Ariel Julian
College: University of Illinois-Champaign
Rich Central, Class of 2008
Major: Psychology
Aaron Sandifer
College: Southern Illinois University-Carbondale
Rich Central, Class of 2006
Major: Accounting
Victoria Hannett
College: University of Tennessee –(Graduate)
Major: Finance & International Business
Currently Working at New York Life in Accounting