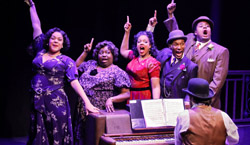 University Park, IL–(ENEWSPF)–January 12, 2016.  Equity Jeff awards. Glowing reviews. Accolades are nothing new to Chicago's Porchlight Theatre.  The 20-year old theatre group has received rave reviews from just about every Chicago theatre critic. City residents have had the convenience of seeing what all the fuss is about, and now south suburban theatre goers can too.
On January 30th at 8 p.m. the group brings its Fats Waller musical revue, Ain't Misbehavin' to GSU's Center for Performing Arts. The rowdy and humorous production won the 2014 Joseph Jefferson Award for "Best Production – Revue" and three other Equity Jeff awards. The Center for Performing Arts production will feature this award-winning cast. Set in the jazz age when nightspots like the Cotton Club and the Savoy Ballroom were the playgrounds of high society, this tribute to the Harlem Renaissance is an evening of toe-tapping' and humorous songs that capture the mood of an era.
The Reviews Are In!
"There is something about this production that captures the exuberant, unstinting spirit of Waller and his era better than any other "Ain't Misbehavin'" I've seen." Chicago Tribune – Chris Jones
"Fun and off-the-charts galvanic energy are the main orders of the day in this show… Talk about "Spreadin' the Rhythm Around. Pure joy." Chicago Sun Times – Hedy Weiss
"A top-flight cast and band who capture the score's ebullient energy and swinging stylishness." Chicago Reader – Albert Williams
Ticket Information
Tickets: $38/$28
Online: CenterTickets.net
By Phone: 708.235.2222
In Person at the Box Office: 1 University Parkway, University Park, IL
Box Office Hours: Monday- Friday 10 a.m. to 4 p.m. (open to 6p.m. on Thursdays) & 2 hours prior to all performances
Parking is free. For best GPS directions always use the location search term "Governors State University" only.
This performance is part of the Center's "Made in Chicago" Series, which brings Chicago-based theatre, dance, and musical ensemble companies to the Southland. Both The Chicago Community Trust and First Midwest Bank generously support this production. Made in Chicago Series was designed to support Chicago artists and increase theater participation by first-time attendees, many who live in communities with little or no access to the arts. The next performance in the series is Ensemble Español Spanish Dance Theater on Saturday, February 6 at 8 p.m.
Source: http://www.govst.edu