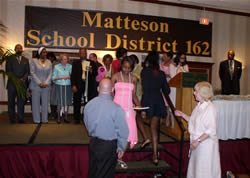 Park Forest, IL—(ENEWSPF)— School District 162 inducted 92 graduating students into its first-ever Academic Hall of Fame on June 4 at a luncheon at the Matteson Holiday Inn. Each student earned a 3.0 or better during their academic careers in district schools. School board members presented each recipient with distinguished silver cords to wear over their graduation robes.
Assistant Superintendent Muriel Cozzi commended the students, "Not only did you achieve your goal of graduation, but you did it with wonderful grades. Some subjects might have been very easy for you, others might have been very challenging. Yet you applied your skills and effort to do well."
Board President Alicia McCray began her remarks giving credit to Dr. Blondean Davis, district Superintendent of Schools, "Dr. Davis has an idea every day. You parents ought to know that. Every day, Dr. Davis has an idea about your children. And we talked about how wonderful the graduation was, but there was something missing. Dr. Davis said she wanted to do something special for the children so that they could be recognized in a more intimate setting, especially for their academic accomplishments. And today is a realization of that dream and that idea."
McCray then focused on the students, "You've learned some critical lessons. You've learned what can be done, and, sometimes, very importantly, what can't be undone. You've learned the truth in an old Arab saying that there are only 4 things in life you cannot take back: the spoken word, the launched arrow, the past, and the neglected opportunity.
"Seated before us today are some of the brightest minds in our collective futures. Here sit the future leaders of America and the world. And in these proud young faces, we can see the fate of the world."
Dr. Blondean Davis affirmed the efforts of the students, "Today is a celebration, an acknowledgement of your hard work, your efforts and your persistence. Today is an example of what can be accomplished when intelligent students, with involved supportive parents forge a partnership with dedicated and talented teachers.
"But today is not only about the celebration of your academic accomplishments. Today we celebrate the beginning of a transition that will bring new opportunities, new possibilities, new experiences."
Below is a list of the Hall of Fame inductees as printed in the event's program:
School District 162 Academic Hall of Fame Honorees

Da'Shawn Acres
Jocelyn Alien
Lanesha Baker
Totiana Bennett
Jovan Bristol
Kevin Brown
Brandi Brawn
Amani Brown-Hall
Autumn Butler
Therese Caldwell
Jade Carney
Rickie Castle
Breanna Chapman
Casey Coleman
Tyler Crump
Nigia Cusic
Jabari Danzy
Ashley Davis
Bryanna Dorsey
Kimberly Douglas
Kamari Durley
Iman Egwaoje
Marcus Evans
Kyra Parley
Jessica Flemming
Keisha Franklin
Abigael Friling
Tekeya Gill
Devoria Gordon
Brianna Hall
Juwan Hampton
Shakiah Harris
Raven Harrison
KeArra Holmes
Marcus Howard
Kameron Hudson
Helen Hunt
Teireny Jackson
Jonathan Johnson
Miariah Johnson
Alysia Johnson
Rockeal Jones
Shawntina Jones
Jessica Joseph
Nathaniel King
Cody Knazze
Lisa Kwarteng
Travis Lay
Willie Lewis
Marissa Mantel
Danielle Massey
Ashley McCray
Natasha McCullum
Myles Mhoon
Destiny Mitchell
Brittany Montgomery
Norisha Moraga
Teresa Moten
Mariah Mullins
Dorrian Neely
Colin Parsons
Daniel Patrick
Breana Payne
Jasmine Pierson
Alana Porter
Kierra Ragland
Dorothy Range
Ishmael Rempson
Caitlyn Robinson
Joshua Robinson
Morghan Robinson
Khadijah Shaaf
Noelle Shalabi
Tiffany Shutts
Marissa Small
Ashley Smith
Bria Smith
Kayla Smith
Menelik Smith
Giovanni Smith
Dorsiea Smith
Latoya Taylor
Sara Timberlake
Essence Townsend
Sitoria Townsend
Brittany Ward
Dou Wen
David White
Olivia Whitehead
Jacob Wilson
Zachary Wojcik
Kyle Young