Matteson, IL-(ENEWSPF)- Rep. Robin Kelly, home during the Congressional summer break, met with representatives of eNews Park Forest to discuss a wide range of topics. This is the first in a series of articles recounting that discussion.
As of 2023, Kelly's 2nd Congressional District extends from the south side of Chicago, south to Danville, and as far west as Pontiac. Previously, the district went only as far south as Kankakee. Now, it is considerably more rural and far more conservative in the new southern geography than it had been. Before redistricting, the Danville area was part of the 15th District and represented by Republican Representative Mary Miller.
Impact of Redistricting
eNews asked Kelly about the impact the recent redistricting had on how she approached her job.
"Yes, my district is more conservative. It is more rural. You could tell that in the difference in the votes that I received, but I love the diversity."
"As a result of the redistricting, I went from 1200 farms to 2000 farms. I lost 10% of my black population, so the district is now about 46 percent black and about 35 percent white. The Latino population has grown to about 15%, and there is very little Asian population."
Regardless of the district boundaries, racial demographics, or political leanings, Kelly maintains a common-sense approach to governing.
"I always felt like there are five things that people want: a roof over their head, a job, healthcare, a good education for their kids, and they want to feel safe no matter where they live. So that's how I approach it."
To provide the same level of support to her constituency in the southern part of the district, Kelly opened an office in Danville staffed by a well-respected community member. Just as she coordinated job and housing fairs in her former geography, she plans on offering similar programs in the Danville area.
Rep. Robin Kelly on Working in a Divided Congress
Kelly acknowledges that it is not easy to work in a more divided Congress than at any time in modern history.
"I try to work in a very bipartisan way, and I am not the only one who does, but some things lately have given me pause," Here, she recounts the events of January 6, 2021. "I was one of the last people off the floor on January 6th," she said.
Then she paints a vivid image, "I was on my hands and knees. It made me take a step back. But people still need help, so you have to move on."
The Congresswoman referenced several committees she is a member that worked with bipartisan support on issues such as farming, organ transplants, and maternity care. However, she did express frustration with the closed-mindedness of her Republican colleagues.
"What's tough for me are the ones who don't speak up, and just go along with the program. It's really ten people who are trying to blow everything up. They don't all feel that way."
A recent New York Times/Sienna College poll found that if the election were held today, President Biden and former President Trump would garner 43% of the vote. When asked about this, Kelly expressed her dismay.
"It is very hard to believe and makes me wonder about America, frankly. It is hard to hear the use of 'colored people' and how 'slavery gave people skills.' That makes it tough. But, if a good bill is proposed and will help people, I'll support it."
Rep. Robin Kelly: A Staunch Gun Control Supporter
Congresswoman Robin Kelly has advocated of stricter gun control efforts in Congress for many years. The high level of gun violence in Chicago and its suburbs is a persistent area of concern.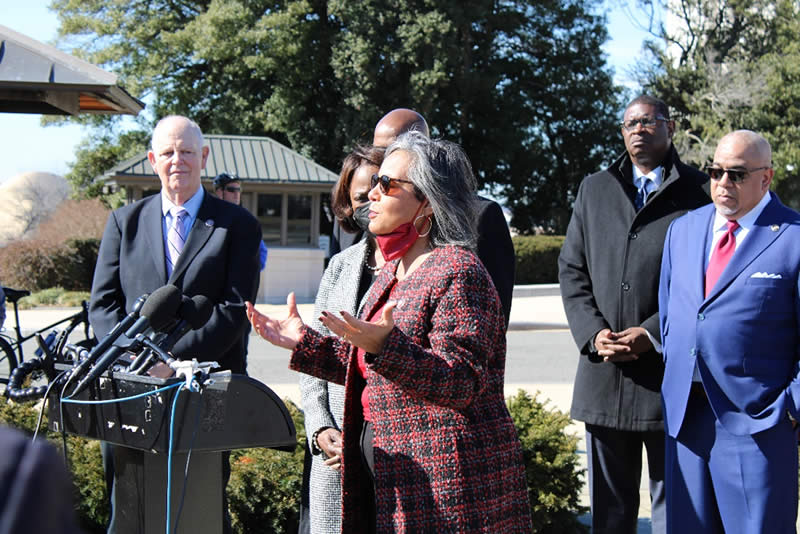 "Last year, for the first time in 30 years, we passed a bipartisan Safer Communities Act, and within that, the big things I was interested in were straw purchasing and trafficking. We know that 60% of the crime guns don't come from Chicago.
You can buy an assault rifle at 18, but not a handgun. We could not get that (raising the assault rifle age to 21) passed, but we proposed extra vetting between 18 and 21. So we have made some advancements, but for it to be bipartisan, it had to be watered down, especially to get the votes we needed in the Senate."
Even with limited success in strengthening gun laws, Kelly is still hopeful.
"The truth is, there is excellent legislation available. There is money in the Safer Communities Act for mental health because there are not enough counselors of color. We need to stop the cycle of violence and invest in neighborhoods, invest in evidence-based programs, and invest in young people."
It's going to take all of us to combat gun violence. I know it sounds corny, but if you see something, say something. But we (Congress) have to do our part. We don't even have background checks. We passed it many times in the House, but we couldn't get it passed in the Senate, and now I don't know what we can get passed in the House."
"They are Coming for Our Guns!"
Kelly acknowledges that some people fear "the government is 'coming to take your guns.' If you purchase your gun legally, and you're not trying to hurt me or anyone else, have your gun. But I don't think you need an assault weapon."
A recent exchange between the Congresswoman and Brendan Kelly, Illinois State Police Director, highlighted the impact of social media on the level of gun violence.
"He told me that in 2021 there were 247 expressway shootings. When I asked him if most were gang-related, he said no. The conflicts start on social media. It's very sad to me. When I was growing up, you might argue with someone, but you didn't use a gun."
Political Divide Blocks Common-sense Legislation
Kelly noted that redistricting has packed like-minded people into districts, and that limits their representatives' voting flexibility.
"They feel like if they have all Trumpers, they can't support some legislation. For me, there are just some things that I have to support, even if I lose, because I have to be able to look at myself in the mirror. That's the bottom line."
"I often ask when I speak on the floor, just who or how many have to die before we do more?" she said. "I'm just fighting the good fight."
Other Topics Discussed
In future articles, eNews Park Forest will report on other issues discussed with Representative Kelly, including abortion rights, mental and women's health, the digital divide, and issues faced by first responders.