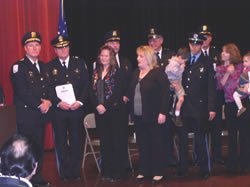 The Park Forest Police Department held its third annual Service Awards on November 12, 2006. Citizen awards were presented to Eric Carlson, Ronald Johnson, and Claudia Valdez. Fifteen year service awards were presented to Officer Joe Butler, and Officer Thomas Naughton. One twenty year award was presented to Corporal Mel Dunnagan, and two twenty five year awards were presented to Commander Patrick Fitzgerald and Deputy Chief Michael McNamara.
"It's always nice to see officers recognized for their work in front of their families because they're the ones who actually sacrifice not having their husband or father or wife at home," said Chief Thomas Fleming of the event. "It's a day we started 3 years ago to acknowledge in a more formal setting the awards each year. We answer about 30,000 calls a year, and you figure that out of 30,000 calls, there's going to be some nice ones there."
Following are some photos from the event.