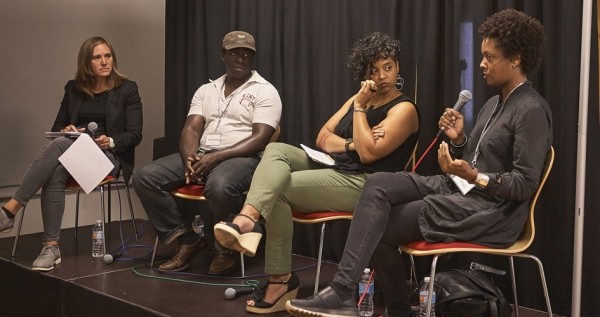 CHICAGO–(ENEWSPF)–July 28, 2017
By: Andrew Bauld
The salon served as a platform for members—from artists to developers to city officials—to get together over the course of nine sessions, develop relationships and build a common language for rethinking how cities are built. Each session was built around one of the nine principles of ethical redevelopment.
In 2014, Theaster Gates, professor in visual arts and director of Arts + Public Life, was recognized for his innovative work in community development with a $3.5 million grant from the John S. and James L. Knight Foundation, which went toward the creation of Place Lab. Isis Ferguson, associate director of city and community strategy, explained the genesis of ethical redevelopment on June 22 during the salon's final session.
"It kind of organically rose out of a resistance to parachuting into other cities," Ferguson said. "We had three years to do this work. We're not a design firm, we're not a consultancy. We wanted to do something that was meaningful in the time that we had."
Collective impact
The cohesion of salon members was apparent during breakout sessions at the salon finale in which groups from Detroit, New Orleans and Philadelphia shared stories about the impact of their work and the growing networks in their home cities.
James Feagin, an entrepreneur from Detroit, led one of the evening breakout sessions and shared insights on effective collaboration and partnerships.
"In order for any of us to be effective, there's only so far you're going to go as one person," Feagin told the group. "How do we go from, it's me trying to get my one project funded, to having a scaled discussion with policymakers, with investors, with funders, about our collective impact?"
"Black and brown neighborhoods are in the process of being revisited," Gates said, reflecting on the development process happening in many U.S. cities. "The anxiety is that residents feel like they don't have access to the info and tools that allow them to make the change happen and benefit from that change. For those anxious about neighborhood revitalization, investment and the possibility of displacement, ethical redevelopment offers a method for enacting and supporting mindful, equitable development."
While the salon and the three-year Knight funding is coming to a close, Gates plans on searching for resources to keep the momentum of the work of ethical redevelopment going.
"The thing we're really going to focus on for the upcoming year is how do we share these principles with people who live in the city on the South and West and North sides, and the far South Sides," Gates said. "This project was particularly about Knight cities learning from Chicago; we hope now Chicago can learn from Knight cities."
Source: http://uchicago.edu