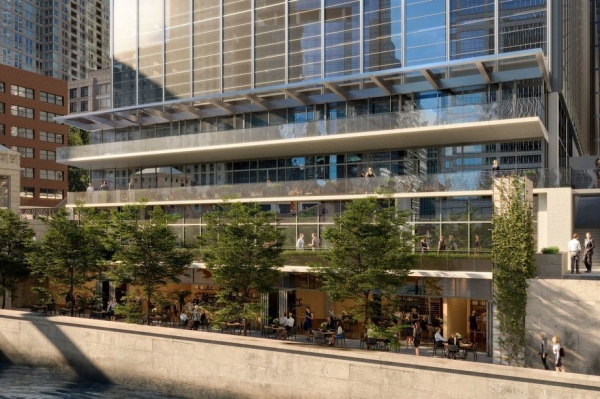 Lettuce Entertain You Teaming Up with Hines & Levy on Four-Story 'RPM On The Water' in 2019
CHICAGO—(ENEWSPF)—March 13, 2018
By: Rosemary Piser
Mayor Rahm Emanuel joined a broad coalition of partners yesterday to announce a major new development on the north side of Chicago's downtown riverfront. The property ownership team of Hines, Levy Family Partners, Diversified and American Realty Advisors are working with architecture firm Goettsch Partners on a $50 million building upgrade, including a complete redevelopment of the Chicago riverfront at 321 N. Clark Street. Chicago's Lettuce Entertain You Enterprises (LEYE) will occupy the dramatic four-level space with RPM On The Water, a restaurant and events venue slated to open in summer 2019.
At the announcement Mayor Emanuel said, "By investing in Chicago's riverfront we have transformed it into the city's next recreational frontier. Making the riverfront a public priority is now driving private investment that will create jobs and recreational opportunities for residents and visitors alike. Congratulations to the team of Chicago businesses that are embarking on this monumental project."
RPM On The Water will be located on the north bank of the Chicago River and will house three separate venues including a bi-level restaurant, a private events space and a yet-to-be-named casual concept. All venues will have outdoor areas and expansive views overlooking the river. There will also be boat slips for those arriving via waterway.
R.J. Melman, partner and president of Lettuce Entertain You said, "A project of this magnitude is a true team effort, and we're lucky to work with the best of the best. This includes the premier ownership group as well as two of the world's best design teams, Goettsch and Rockwell Group. Of course, none of this would be possible without Mayor Emanuel's remarkable vision for the riverfront and Alderman Reilly's support."
Partner Bill Rancic added, "This latest restaurant in the RPM family will focus on high-quality seafood and more from chef/partner Doug Psaltis, in addition to the exceptional wine program and impeccable service for which the brand is known. We're thrilled to join forces with Rockwell for our first official design project together – their interpretation of the space features floor-to-ceiling windows, open-air patios and waterfront views from practically every vantage point in the restaurant."
With the success of its private dining and event capabilities at RPM Italian in Chicago and Washington, D.C. and RPM Steak in Chicago, there will be an entire level dedicated to parties and banquets, accommodating groups as small as eight for intimate gatherings or for more than 300 guests for lavish weddings, large-scale corporate events and more.
Source: www.cityorchicago.org