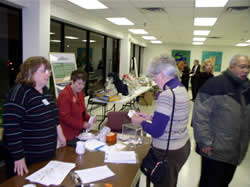 The maps of downtown Park Forest were distributed and off they went. Business owners, professionals and residents from surrounding communities scattered throughout the area on November 16 to discover the hidden gems that lie within. The Matteson Area Chamber of Commerce and the Village of Park Forest co-hosted this special event in honor of the Chamber's recent move to its new location in downtown Park Forest.
The scavenger hunt was the brainchild of Hildy Kingma, Director of Economic Development for the Village and Georgia O'Neill, Executive Director of the Chamber. "We wanted to welcome the Chamber to our community"
said Kingma, "and let everyone have fun in the process." As Chamber members sought out the new headquarters, they discovered the 11 other participating businesses scattered throughout the downtown. "We're excited to be in our new location and we wanted our members to get familiar with our new home and our new neighbors," said O'Neill.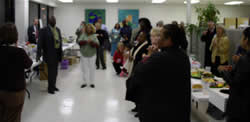 The blustery night didn't stop Chamber members and guests from facing the elements in search of their bounty. The participating businesses rewarded their efforts by offering bits of nourishment at each location, information about the services they offer and the qualifying signatures for even greater rewards to be found at the journey's end – a bounty of raffle prizes. A good time was had by all.
The Matteson Area Chamber of Commerce serves the communities of Park Forest, Matteson, Olympia Fields, Richton Park and University Park by promoting a favorable business climate, supporting opportunities for economic development and serving as a voice for all local businesses.